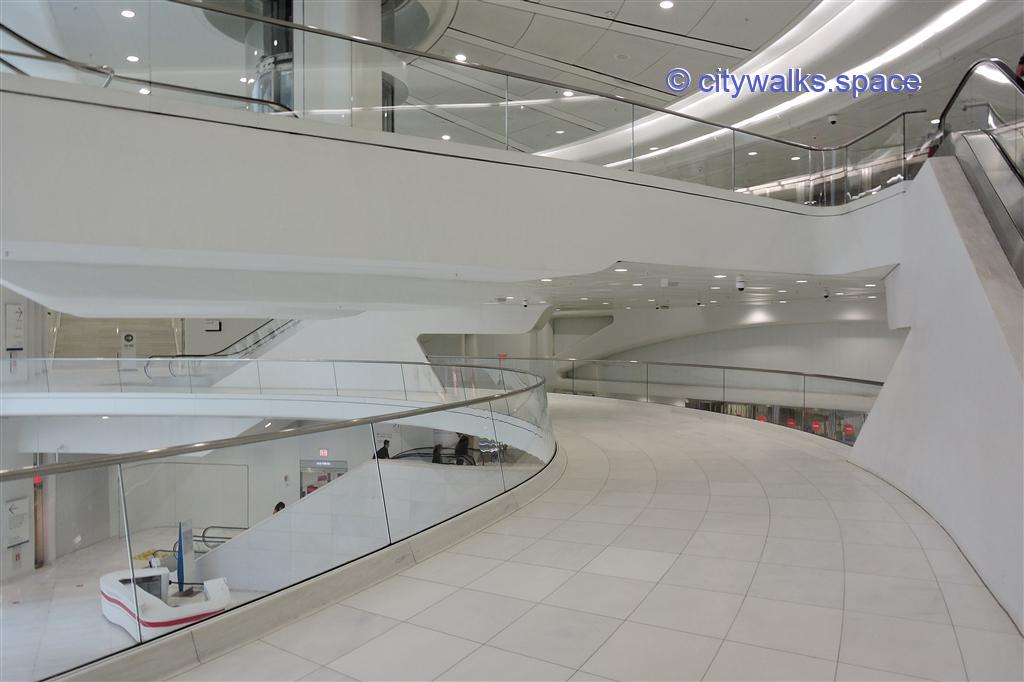 (texte en français ci-dessous)
White on the outside and inside, the Oculus is the subway and train station that replaced the World Trade Center station destroyed in the 9/11 attack, but it is much more than that.
From the outside, it looks like a bird taking flight and that is exactly what Santiago Calatrava, its Spanish architect, had in mind.
Inside a whole cluster of luxury shops make the place the largest shopping mall in the city.
Even without wanting to take the metro or go shopping, go see it, stroll on its marble floors, gaze up into the sky which appears between the airy structure of its two wings. You have never seen a metro station like this and it is the most expensive in the world. It is also the symbol of the revival of the place.
It is next to One World Trade and the 9/11 Memorial and Museum so it can be part of a full tour of this place in Lower Manhattan.
And to explore more, you can start your visit at City Hall and take Walk in NYC # 2, the essentials of Lower Manhattan, a self-guided City Walks tour that takes you through these places and then to Battery Park.
Count the day to do everything if you add meals and visits.
In the meantime you can read what its architect said about the creation of the Oculus: Santiago Calatrava Explains How He Designed the Oculus For Future Generations
---
Toute blanche à l'extérieur comme à l'intérieur, The Oculus est la station de métro et de trains qui a remplacé la station du World Trade Center détruite lors de l'attentat du 11 septembre.
Mais elle est bien plus que cela.
De l'extérieur, elle ressemble à un oiseau prenant son vol et c'est bien ce que Santiago Calatrava, son architecte espagnol, avait en vue.
A l'intérieur tout un ensemble de boutiques de luxe fait de l'endroit la plus grande galerie marchande de la ville.
Même sans vouloir prendre le métro ou faire du shopping, allez la voir, promenez-vous sur ses sols de marbre, regardez en l'air vers le ciel qui apparait entre la structure aerée de ses deux ailes. Vous n'avez jamais vu une station de métro comme cela et c'est d'ailleurs celle qui a coûté le plus cher au monde. C'est aussi le symbole du renouveau de l'endroit.
Elle est à côté du One World Trade et du memorial et musée du 11 septembre donc elle peut faire partie d'une visite complète de cet endroit de Lower Manhattan.
Et pour explorer plus encore, vous pouvez débuter votre visite à City Hall et suivre Promenade à NYC numéro 2, les incontournables de Lower Manhattan, un tour auto-guidé de Promenades en ville qui vous fera passer par ces endroits et vous emménera ensuite à Battery Park.
Comptez la journée pour tout faire si vous ajoutez repas et visites.