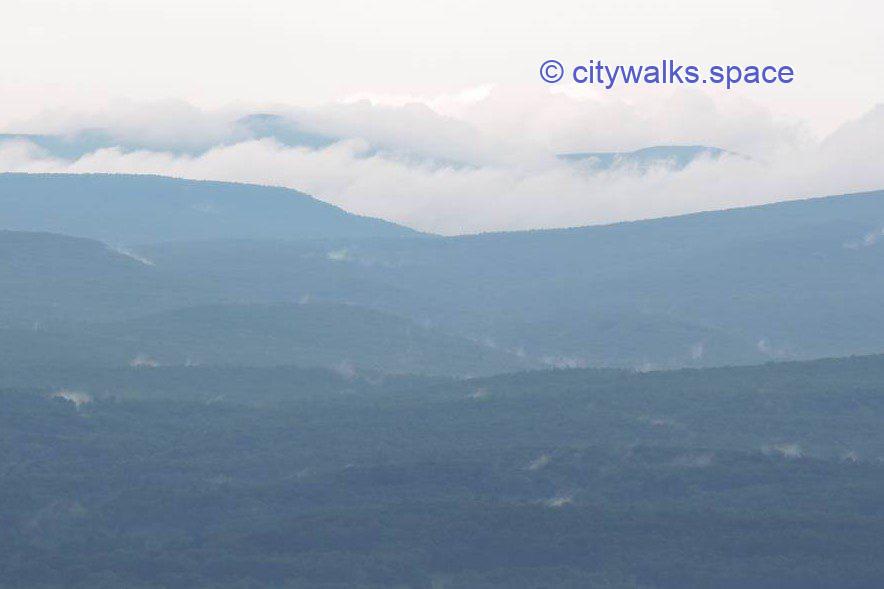 (texte en français ci-dessous)
Today, New York Citywalks takes you out of town and into the Catskills. Plan a two hour drive from Manhattan to reach the Minnewaska State Park in Ulster County along the Shawangunk Mountain ridge.
There, you'll find miles of paths in the wood or along ridges with superb views of the surrounding mountains.
There are also clear water lakes if swimming is what appeals to you the most. In that case however, you'll have to wait for sunny days which also means a lot of people in the parking lots.
So get there early to find a place or come during the week or off-season if you can.
Once you leave the area around the parking lots, the park is huge enough and the paths numerous enough for you to find peace and quiet. Not necessarily on the busiest old carriage paths but on the steeper ones that promise adventure.
If this park is too crowded, there are others in the vicinity and other places to stroll around, for example along the Hudson River (see in particular a previous article on the Esope Meadows Lighthouse).
To find all of this, take a look at the Other Outings page on the New York CityWalks site, and you'll find ideas for getaways in the countryside at just a few hours from New York City.
---
Aujourd'hui, Promenades à New York vous propose de sortir de la ville et d'aller dans les Catskills à environ deux heures de route de Manhattan.
Plus précisément à Minnewaska State Park dans Ulster County le long du Shawangunk Mountain ridge.
Vous y trouverez des kilomètres de chemins dans la forêt ou le long de crêtes avec des vues superbes sur les montagnes avoisinantes. Il y a aussi des lacs à l'eau claire si la baignade est ce qui vous attire le plus.
Dans ce cas cependant, il vous faudra attendre les beaux jours ce qui signifie aussi beaucoup de monde sur les parkings.Arrivez donc tôt pour trouver une place ou venez en semaine ou hors-saison si vous pouvez.
Une fois les abords des parkings quittés, le parc est immnese et les chemins assez nombreux pour que puissiez retrouver le calme. Pas forcément sur les chemins de carioles les plus fréquentés mais sur ceux plus escarpés qui promettent de l'aventure.
Il y a d'autres parcs dans les environs si celui-ci est bondé et d'autres endroits où se promener dans les environs, par exemple le long de l'Hudson River (voir en particulier un article précédent sur le phare d'Esope).
Pour trouver tout cela, jetez un coup d'œil à la page Autres sorties sur le site Promenades à New York et vous aurez des idées d'escapades à la campagne à quelques heures de New York City.