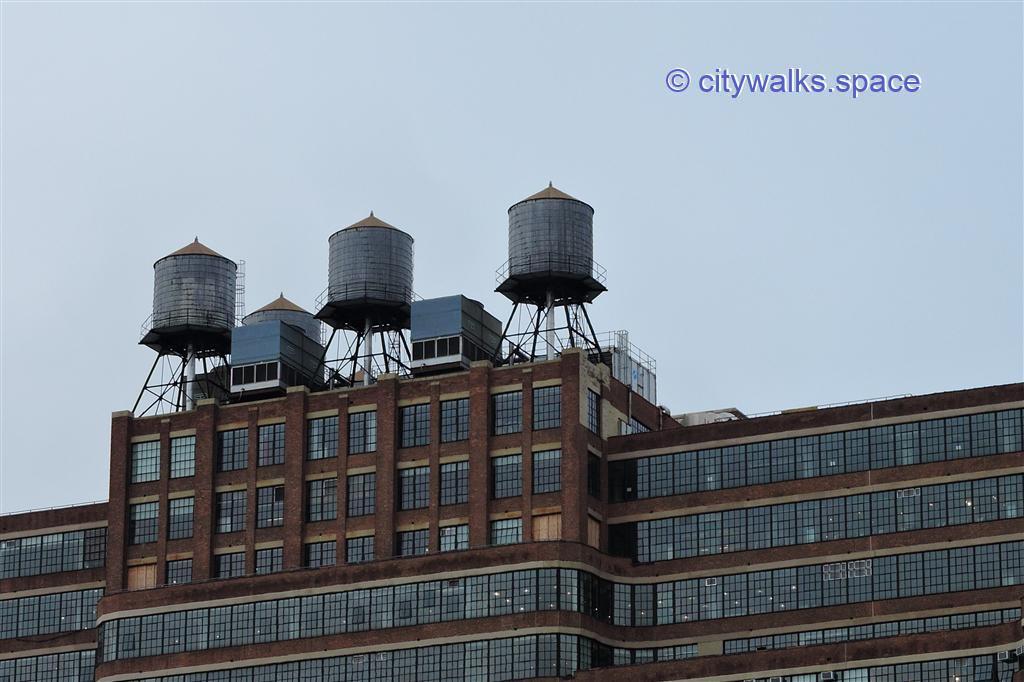 (texte en français ci-dessous)
If you go to New York, it's obviously not for the water tanks that adorn the roofs of the city.
You will however only need to spend a day there to see them everywhere. You may even get attached to them and start looking for them when you are in places where the buildings are more than 6 floors high.
Despite their sometimes decrepit air and their astonishing wooden structure, they are still in activity. Three family-owned companies have shared the market for about a century and continue to install or maintain them. There are even some in the skyscrapers – although more modern and made of steel, but you don't see them because they are hidden in the structure.
The One World Center has sixteen, for example, located at different heights of the tower to allow their filling in stages. Like all the others, they ensure that the floors above the sixth have running water.
Below, the water coming from reservoirs to the north of the city leaves from a sufficient height to be able to reach these sixth floors without assistance.
In any case, these tanks store from 5,000 to 12,000 gallons of water depending if their size. The water in the upper part is for everyday use, the rest is kept in case of emergency. When the level drops, a pump kicks in.
They also last from 30 to 35 years and are installed within 24 hours. They fill in 2 or 3 hours and are made of untreated wood – hence their dated look. The untreated wood avoids contaminating the water, is cheaper and more efficient than steel.
Voila, New York is full of surprises, isn't ?!
The tanks pictured in this article are located not far from Hudson Yards along Walk in NYC #4, the High Line -Hudson River Stroll.
Look up anywhere in town, though, and you won't be long before you see more. There are, it is said, 17,000 of them!
---
Evidemment, si vous allez à New york, ce n'est pas pour les réservoirs à eau qui ornent ses toits.
Il vous suffira cependant de passer une journée dans la ville pour ne pas manquer de les voir et il se peut même que vous vous y attachiez. Alors vous les chercherez des yeux quand vous serez dans des endroits où les bâtiments font plus de 6 étages.
Malgré leur air parfois décati et leur étonnante structure en bois, ils sont encore en activité et les trois compagnies familiales qui se partagent le marché depuis environ un siècle continuent à en installer ou à les entretenir. Il y en a même dans les gratte-ciel – bien que plus modernes et en acier, mais vous ne les voyez pas car ils sont cachés dans la structure.
Le One World Center en a seize par exemple, situés à différentes hauteurs de la tour pour permettre leur remplissage par étapes. Comme tous les autres, ils assurent que les étages au dessus du sixième ont de l'eau courante. En dessous, l'eau venant de réservoirs au nord de la ville part d'une hauteur assez suffisante pour pouvoir atteindre ces sixièmes étages sans aide.
15 000 à 35 000 litres d'eau selon la taille du réservoir sont ainsi stockés à chaque fois sur les toits. L'eau de la partie supérieure est destinée à l'usage courant, le reste est gardé en cas d'urgence. Quand le niveau baisse, une pompe se met en marche.
Ces réservoirs durent de 30 à 35 ans et sont installés en 24 heures. Ils se remplissent en 2 ou 3 heures et sont en bois non traité – d'où leur aspect vieillot. Cebois non traité évite de contaminer l'eau, est moins cher et plus efficace que l'acier.
Voila, New York est pleine de surprises, n'est-ce pas?!
Les réservoirs illustrants cet article se situent non loin de Hudson Yards le long de Promenade à New York numéro 4, de la High Line à l'Hudson River mais levez la tête n'importe où dans la ville et vous ne serez pas longtemps avant d'en voir d'autres.
Il y en a 17 000, parait-il!