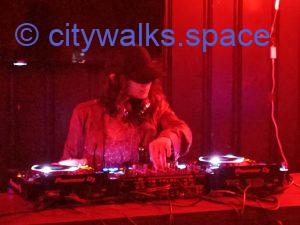 Cindy Khalifa at the Lower Level, 1
(texte en français ci-dessous)
Being the first act in a concert often means playing in front of an empty room which will gradually fill up but generally not for the person playing at that moment. It means having to fill the time while people are waiting for the main act to arrive much later in the evening. If there are multiple DJs, which was the case that night, they play in order of popularity.
So for DJ Cindy Khalifa, the conditions were not met for her to have a large and enthusiastic audience, especially since at the time she had to take control of the decks, said decks and the entire sound system were not ready.
The Lower Level is, as its name suggests, underground. That's its charm, a sort of club for initiates without even a sign on the door that says it's really there, but it also goes with the vagaries of the organization that isn't always perfect. So there was a wait of almost an hour for everything to fall into place.
Unfazed, she however performed with maestro for 90 minutes and proved that playing as a first act does not always signify being less good than the following acts. It's just undoubtedly part of the obligatory passage for all those who embark on the adventure.
In fact, she appeared to be much more original and inventive in her choices than her more experienced colleagues. Whether this will ensure the success she deserves, it remains to be seen but if you have the opportunity to go and listen to her, don't hesitate. She mixes sounds from the Middle East with Western sounds, she takes risks with almost too long periods where you wonder if the beat is going to come back and then suddenly it comes back in force and it's a pleasure.
Although she is focused on what she is doing with little interaction with the public, she seems to take a lot of pleasure in concocting her original techno and she has a lot of confidence. This bodes well for the future if, of course, she decides to continue.
To listen to her online, you'll have to go to Soundcloud and here is a link to a composition of about an hour that is fairly representative of her style.
To find other places to go out at night or during the day in or around Boston, here is another link:
---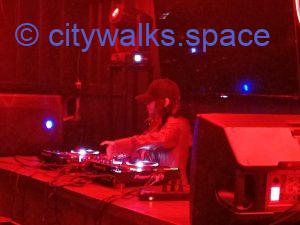 Cindy Khalifa au The Lower Level, 2
Passer en 1ère partie, c'est souvent jouer devant une salle vide qui va se remplir peu à peu mais en général pas pour celui ou celle qui joue à ce moment là. C'est occuper le temps en attendant que l'acte principal arrive bien plus tard dans la soirée et s'il y a plusieurs DJ, ce qui était le cas ce soir là, ils jouent par ordre de popularité.
C'est dire que pour Cindy Khalifa, les conditions n'étaient pas remplies pour qu'elle ait un public nombreux et enthousiaste d'autant plus qu'au moment où elle devait prendre le contrôle des platines, lesdites platines et toute la sono n'étaient pas prêtes.
The Lower Level, c'est, comme son nom le suggère, underground. Ça fait son charme, une sorte de club pour initiés sans même une indication sur la porte qui dirait que c'est bien là, mais ça va aussi avec les aléas de l'organisation pas toujours au point. Il a donc du fallu attendre presque une heure pour que tout se mette en place.
Elle a pourtant ensuite assuré avec maestro pendant 90 minutes et prouvé que jouer en première partie ne signifie pas toujours être moins bien que les suivants. C'est juste que ça fait sans doute partie du passage obligé de tous ceux qui se lancent dans l'aventure.
A mon sens, elle était beaucoup plus originale et inventive dans ses choix que ses collègues plus aguerris. Est-ce que cela lui assurera le succés qu'elle mérite, rien n'est encore dit mais si vous avez l'occasion d'aller l'écouter, n'hésitez pas. Elle mélange sons venus du Moyen-Orient avec sons occidentaux, elle prend des risques avec des périodes presque trop longues où on se demande si le beat va revenir et puis soudain il revient en force et c'est un plaisir.
En fait et bien qu'elle soit concentrée sur ce qu'elle fait avec peu d'interaction avec le public, elle semble prendre beaucoup de plaisir à concocter sa techno originale et elle a beaucoup d'assurance. Ça augure bien de la suite si, bien sûr, elle décide de continuer.
Pour l'écouter en ligne, il faut aller sur Soundcloud et voila un lien vers une composition d'une heure environ assez représentative de son style.
Pour trouver d'autres endroits où sortir la nuit ou le jour à ou autour de Boston, voila un autre lien: https://boston.citywalks.space/fr/au-dela-de-boston/