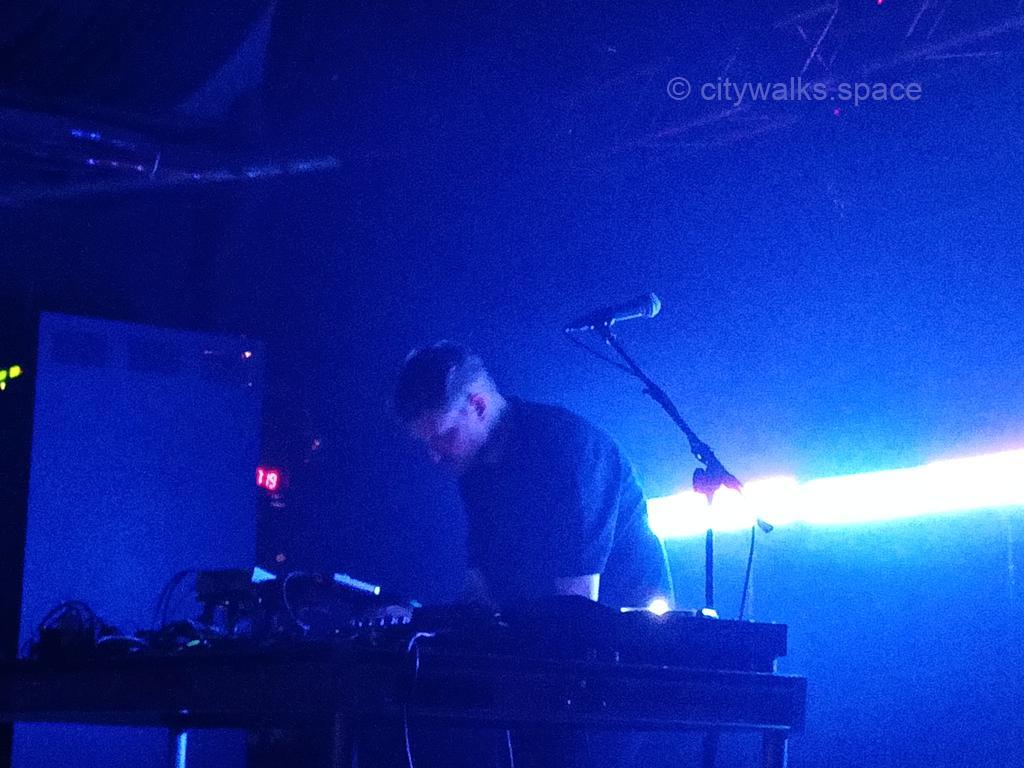 (texte en français ci-dessous)
You could say that Amtrac is discreet: he speaks little, the lights that accompany his concert are minimalist, he is leaning over and concentrating on his turntables, sometimes he gives a little sign to his audience before quickly returning to his work.
Even when he sings, it remains quiet, it's more an addition of voice to modify the effect of the music than a song strictly speaking. What strikes, what stands out, what captivates and makes you dance, are its sounds, evolving, worked, varied, sometimes calm, sometimes rhythmic, an avalanche of sensations that parade.
He needs time to express everything so he plays almost two hours and it's a joy compared to some main acts who finish in an hour and leave the audience hungry for more.
Is it his choice or that of the organizer, we do not know but it is in any case a good decision.
The other decision which was also good, was to program Bad Tuner in the first part. Simpler but lively sounds, a DJ who does not stay in place, lots of lights.
Like the meetings of two very different but complementary personalities.
Amtrac, from Kentucky, plays progressive house (many rhythmics layers, not much vocals) sometimes also described as indie dance or indietronica (a mix of rock and EDM), and that seems a more accurate name. To judge, here is one of his tracks: Heard me right.
Bad Tuner, from New York City, plays deep house (sound of the 1980s with a bit of jazz and soul from Chicago) but that night it sounded more like tropical house (positive, sunny) and here's a piece of it too: Loverboy.
The whole thing was at Brighton Music Hall, a place in Boston where it's easy to see the artists up close and which is one of my favorites.
To find other venues or places to visit in or beyond Boston, here is a link: it's the Beyond Boston page on Boston.citywalks.space where you'll also find self-guided walks to discover the city on foot.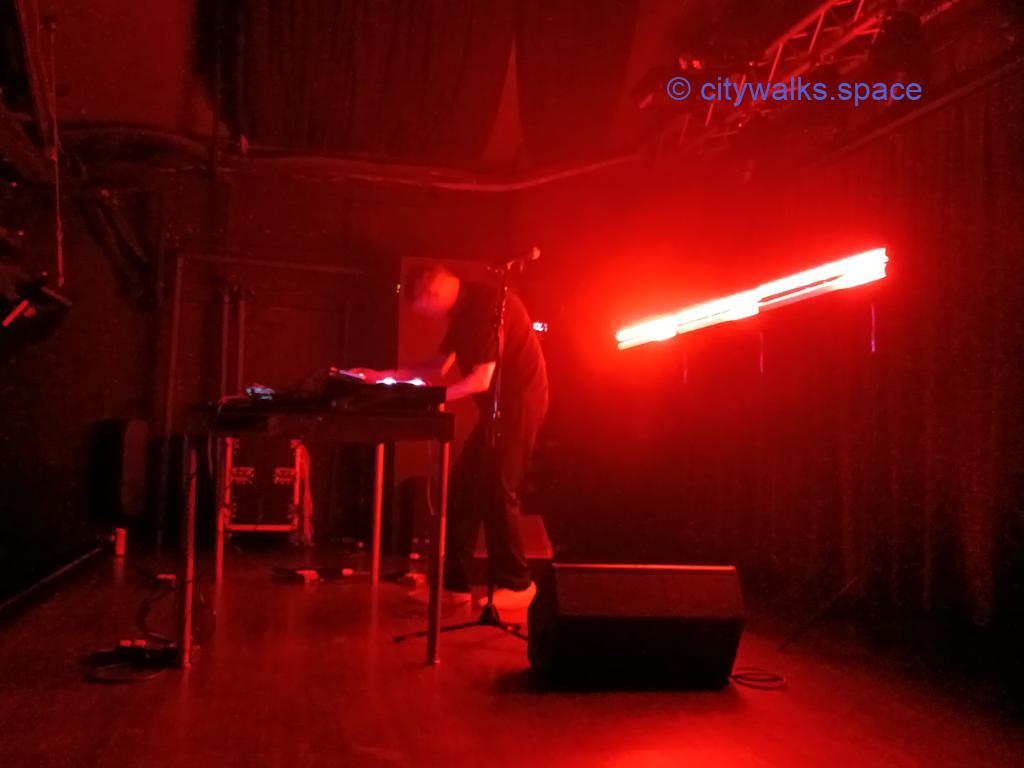 On pourrait dire qu'Amtrac est discret: il parle peu, les lumières qui accompagnent son concert sont minimalistes, il est penché et concentré sur ses platines, parfois il fait un petit signe à son public avant de vite retourner à son ouvrage. Même lorsqu'il chante, ça reste tranquille, c'est plus un ajout de voix pour modifier l'effet de la musique qu'un chant à proprement parler.
Ce qui frappe, ce qui ressort, ce qui captive et fait danser, ce sont ses sons, évolutifs, travaillés, variés, parfois calmes, parfois rythmés, une avalanche de sensations qui défilent.
Il a besoin de temps pour tout exprimer alors il joue presque deux heures et c'est un bonheur par rapport à certains qui ont fini en une heure et laissent l'auditoire sur sa faim.
Est-ce son choix ou celui de l'organisateur, on ne le sait pas mais c'est en tout cas une bonne décision.
L'autre décision qui était bonne aussi, c'était de programmer Bad Tuner en première partie. Des sons plus simples mais entrainants, un DJ qui ne reste pas en place, beaucoup de lumières.
Comme deux rencontres de personnalités très différentes mais complémentaires.
Amtrac, venu du Kentucky, joue de la progressive house (beaucoup de niveaux rythmiques, peu de vocaux) parfois aussi décrite comme de l'indie dance (un mélange de rock et de EDM) ou de l'indietronica et ça semble une dénomination plus exacte. Pour en juger, voila un de ses morceaux : Heard me right.
Bad Tuner, venu de NYC, c'est de la deep house (le son des années 1980 avec un peu de soul et de jazz de Chicago) mais ce soir là elle ressemblait plus à de la tropical house (positive, ensoleillé) et en voila aussi un morceau: Loverboy
Le tout, c'était à Brighton Music Hall, une salle à Boston où il est facile de voir les artistes de près et qui est une de mes préférées.
Pour trouver d'autres salles de spectacles ou d'autres endroits à visiter à ou au delà de Boston, voilà un lien: c'est la page Autres sorties de Boston.citywalks.space/fr où vous verrez aussi des tours auto-guidés pour explorer la ville à pied.