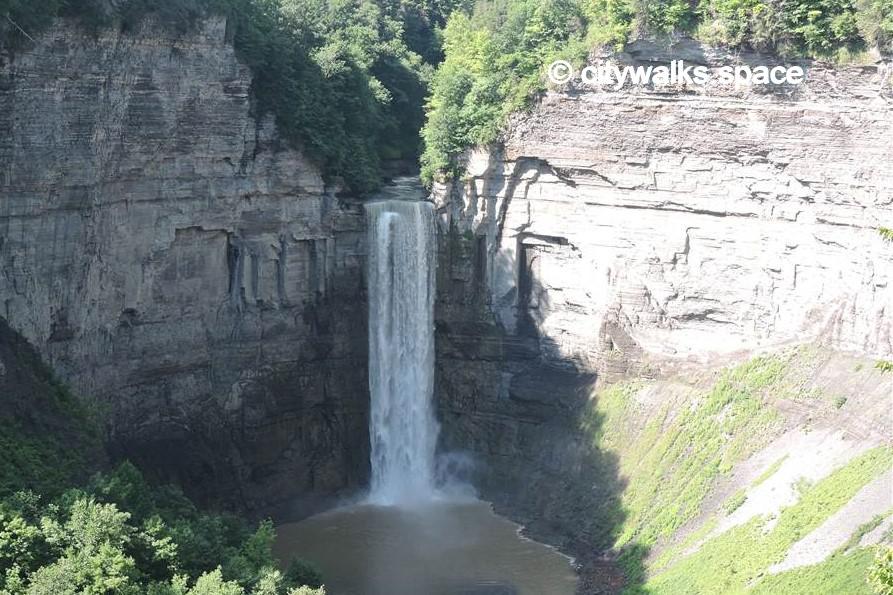 (texte en français ci-dessous)
Taughannock Falls is just one of the countless amazing waterfalls of the Finger Lakes region.
With a vertical drop of 66 meters, it is also the highest east of the Rockies. Taller than Niagara Falls although much narrower.
It's the main attraction of Taughannock Falls State Park next to Cayuga Lake.
There, you'll find walking trails, a camping and a beach. Enough to spend a few days in the state of New York far from the city but near the famous vineyards of this area. Also not far from Ithaca, its two universities, its restaurants and cultural activities.
If you go that way, there are at least two other waterfalls worth a visit:
the first, located at about a 30-minute drive from Taughannock Falls, is located in Watkins Glen State Park. It's in fact a series of 19 waterfalls that run into a deep gorge. The gorge trail, about 1.5 miles long, is the most impressive of the ones you'll find there with its bridges, stairs, and passages behind the water. Its only problem is that it is often cramped and overrun with tourists. Don't let that stop you from going there, though, the place is magical.
the second, Buttermilk Falls, is at about a 20 minute drive from Taughannock Falls, also in a state park with camping and walking trails, next to Ithaca. It is less crowded than the other one and very pleasant, the occasion for a walk in the forest along a torrent which descends the mountain and forms pools where it would be good to swim – but only the one at the bottom of the waterfall is open to bathing.
To find other suggested outings within a 2 or 4 hour drive from Manhattan, visit the Other Outings page on newyork.citywalks.space.
Enjoy your visit!
---
La cascade de Taughannock n'est qu'une des innombrables cascades de la région des Finger Lakes.
Avec un denivelé de 66 mètres, c'est aussi la plus haute à l'est des Rocheuses. Plus haute que les chutes du Niagara bien que bien moins large.
Elle est l'attraction principle du parc d'état de Taughannock au bord du lac de Cayuga.
Vous y trouverez des sentiers de marche, un camping et une plage. De quoi passer quelques jours dans l'état de New York loin de la ville mais près des vignobles réputés de cet endroit. Pas loin non plus d'Ithaca et des ses deux universités, ses restaurants et ses activités culturelles.
Si vous allez par là, il y a au moins deux autres cascades qui valent une visite:
la première, située à environ 30 minutes de route de Taughannock, est au parc d'état de Watkins Glen. C'est en fait une suite de 19 cascades qui dévalent dans une gorge profonde. Le sentier de la gorge, long d'environ 2 km, est le plus impressionnant de tous ceux que vous trouverez là avec ses ponts, ses escaliers, ses passages derrière l'eau. Son seul problème, c'est qu'il est étroit et que l'endroit est souvent envahi de touristes. Que cela ne vous empêche cependant pas d'y aller, l'endroit est magique.
la deuxième, Buttermilk Falls, est à environ 20 minute de route de Taughannock, elle aussi dans un parc d'état avec camping et sentiers de marche, tout près d'Ithaca. Elle est moins courrue que l'autre mais très plaisante, l'occasion d'une promenade en forêt le long d'un torrent qui dévale la montagne et forme des bassins où il ferait bon se baigner -mais seul celui du bas de la cascade est ouvert à la baignade.
Pour trouver d'autres suggestions de sorties à 2 heures ou 4 heures de route de Manhattan, rendez-vous sur newyork.citywalks.space, page Autres sorties.
Bonne visite!