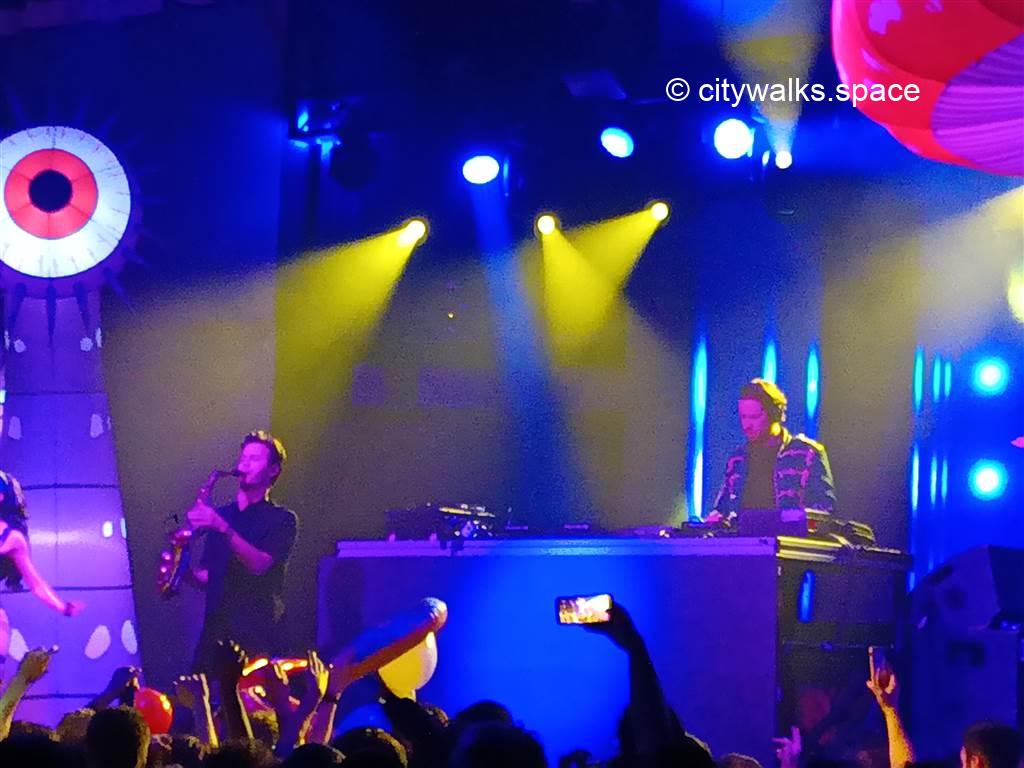 (texte en français ci-dessous)
After a few years when it seemed that Royale had been overshadowed by newer clubs in terms of offerings, it is making a strong comeback this year with several international big names and it is a pleasure to go back to the place, built in 1918 to welcome operas.
The gilding on the ceiling is still there, the balconies and the chandeliers too, the large brown leather armchairs scattered around the perimeter of the dance floor remain welcome to wait for the DJ headliner when the DJs of the first part do not end to play, and the many bars scattered everywhere ensure that you will never wait to be served despite a capacity of about a thousand people.
What has changed are the much more numerous LCD panels and the colorful inflatable structures reminiscent of contemporary art exhibitions, not to mention a sound system and effective lighting effects.
If you are tempted by who play there, do not hesitate, the place is unique.
On March 11 at night, Bakermat was on the bill with its tropical house sounds. He was coming directly from Amsterdam for his first concert in the USA since several years before moving on to New York, then Chicago and the west coast. He is a safe bet if you want to be transported to distant islands and to dance to tunes that won't make you morose.
I would have liked him to play some of his latest titles like Resist which introduces somewhat new sounds to his repertoire but he stuck to his classics and it was a pleasure to hear him anyway. As often, he was accompanied by a saxophonist which makes his concerts even more energizing.
Boats, a duo from Boston and Royale regulars opened the show. They seemed to have a regular audience who knew their titles but I would have gladly traded their last 30 minutes for an extra 30 minutes of Bakermat!
This is the problem with the way these clubs operate, you have to wait a very long time for the headliner to start playing or decide to come very late without being certain that it will be a good calculation because it happens that the headliner starts early and ends early to make way for the second knives!
Anyway, if you want to find other places to go out in Boston, some of which have more manageable hours, go to the "other outings" page on boston.citywalks.space.
---
Après quelques années où il semblait que Royale avait été éclipsée par des clubs plus récents au niveau de la programmation, il revient en force cette année avec plusieurs pointures internationales et c'est un plaisir de retrouver l'endroit, construit en 1918 pour accueillir des opéras.
Les dorures au plafond sont toujours là, les balcons et les chandeliers aussi, les grands fauteuils en cuir brun disséminés sur les pourtour de la piste restent les bienvenus pour attendre le DJ tête d'affiche quand les DJ de première partie n'en finissent pas de jouer et les multiples bars disséminés un peu partout assurent que vous n'attendrez jamais pour vous faire servir malgré une capacité d'accueil d'environ mille personnes. Ce qui a changé, ce sont les panneaux LCD beaucoup plus nombreux et les structures gonflables colorées qui font penser à des expositions d'art contemporain, sans compter une sono et des jeux de lumière efficaces.
Si la programmation vous tente, n'hésitez donc pas, l'endroit est unique.
Le 11 mars au soir, Bakermat était à l'affiche avec ses sons de tropical house. Il arrivait directement d'Amsterdam pour son 1er concert aux USA depuis plusieurs années avant d'enchaîner sur New York puis Chicago et la côte ouest. C'est une valeur sûre pour voyager vers des îles lointaines et danser sur des airs qui ne vous rendront pas moroses.
J'aurais aimé qu'il joue quelques-uns de ses derniers titres comme Resist qui introduit des sons un peu nouveau dans son répertoire mais il s'en est tenu à ses classiques et c'était dans tous les cas un plaisir de l'entendre. Il était comme souvent accompagné d'un saxophoniste ce qui rend ses concerts encore plus énergisants.
Boats, un duo de Boston et des habitués de Royale était en première partie. Il semblait avoir un public d'habitués qui connaissait leurs titres mais j'aurais volontiers échangé leurs 30 dernières minutes pour 30 minutes supplémentaires de Bakermat!
C'est d'ailleurs le problème avec la façon dont ces clubs opérent, il faut attendre très longtemps que la tête d'affiche commence à jouer ou alors décider de venir très tard sans pour autant être certain que ce sera un bon calcul car il arrive que la tête d'affiche commence tôt et finisse tôt pour laisser la place aux second couteaux.
Quoiqu'il en soit, si vous voulez trouver d'autres endroits où sortir à Boston dont certains qui ont des horaires plus gérables, allez sur la page "autres sorties" du site boston.citywalks.space.