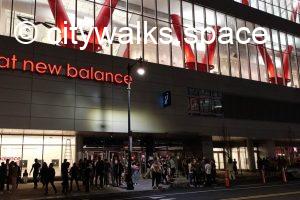 (texte en français ci-dessous)
"This never happened" but yet the concert was sold out at Roadrunner, Boston's newest performance venue in Allston.
About 3,500 people to see Lane 8 play for 3 hours with a ban on taking photos and/or filming as in most of his concerts.
To enforce it, a cover is indeed placed on your phone at the entrance and if this does not prevent some from removing it, it still makes the experience unique.
The venue is large but since there are no seats either around the dance floor or in the stepped stands upstairs, it nevertheless remains somewhat intimate and gives a feeling of community. Wherever you are, the view of the stage is unobstructed and you also see most of the spectators. It is therefore impossible to feel isolated but the ambient light is never strong enough to make you aware of yourselves. In short, a very well-thought place designed to increase the pleasure of live concerts with of course a powerful and clear sound system.
I had mainly come for Le Youth which was the opening act as I had never thought I'd be able to listen to him in Boston when I discovered him, but Lane 8 converted me and if I left before the end, it was just to avoid finding myself in the traffic jams on the way out. Speaking of that, there is a parking lot whose exit faces the entrance to Roadrunner and at $10 a spot, it's difficult to want to look elsewhere even if there may be free places in the street a little further away.
Lane 8, it's deep and progressive house made of big waves of sound over landscape videos with moments of energy that electrify the room and it's easy to see why he is becoming more and more popular. Le Youth serves well-designed electronica/deep house sounds that also makes him rise in the rankings of the best DJs.
To listen to them, two links: Lullaby by Le Youth, taken from his latest album of the same title and Just by Lane 8, taken from his album Brightest Lights.
And to learn more about other places to go out in Boston and Roadrunner, another link to the Beyond Boston page of my site Boston.citywalks.space.
---
"Ça n'a jamais eu lieu" mais pourtant le concert se passait à guichets fermés à Roadrunner, la toute nouvelle salle de spectacle de Boston située à Allston.
3500 personnes environ pour voir Lane 8 jouer pendant 3 heures avec interdiction de prendre des photos et/ou de filmer comme dans la plupart des ses concerts.
Un cache est d'ailleurs mis sur votre téléphone à l'entrée et si cela n'empêche pas certains de l'enlever, ça rend tout de même l'expérience unique.
La salle est grande mais comme il n'y a pas de sièges ni autour de la piste ni dans les gradins étagés, elle reste pourtant intime et donne une impression de communauté. Où que vous soyez, la vue sur la scène est dégagée et vous voyez aussi la plupart des spectateurs. Impossible donc de se sentir isolé mais la lumière ambiante n'est jamais assez forte pour vous rendre conscient de vous-mêmes. En bref, un très bel endroit conçu pour augmenter le plaisir de concerts en direct avec bien sûr une sono puissante et claire.
Je venais surtout pour Le Youth qui passait en première partie et que je n'aurais jamais pensé pouvoir écouter à Boston quand je l'ai découvert mais Lane 8 m'a converti et si je suis parti avant la fin, c'est juste pour éviter de me retrouver dans les embouteillages en sortant. En parlant de cela, il y a d'ailleurs un parking dont la sortie fait face à l'entrée de Roadrunner et à $10 la place, difficile de vouloir aller chercher ailleurs même s'il se peut qu'il y ait des places gratuites dans la rue un peu plus loin.
Lane 8, c'est de la deep house progressive faite de grandes vagues de sons sur des vidéos de paysages avec des moments d'énergie qui électrisent la salle et c'est facile de comprendre pourquoi il devient de plus en plus populaire. Le Youth, c'est de l'électronica/deep house bien conçue qui font que lui aussi monte dans les classements des meilleurs DJ.
Pour les écouter, deux liens: Lullaby by Le Youth, extrait de son dernier album du même titre, et Just by Lane 8, extrait de son album Brightest Lights.
Et pour en savoir plus sur d'autres endroits où sortir à Boston et sur Roadrunner, un autre lien vers la page Autres Sorties de mon site Boston.citywalks.space/fr.