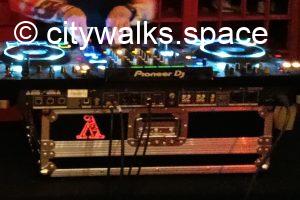 (texte en français ci-dessous)
Playing at Zuzu/The Middle East in Cambridge, Massachusetts, it's not yet being a star but it's already a good start.
The Middle East has been around since1970 and has seen so many bands in its 5 nightclubs that one cannot count them anymore; some of them were on their way to fame in any case.
It has been many times nominated best venue for live act in the Boston area, and it is very different from the trendy clubs of Downtown Boston. Here, you come for the music, not the flashy decor. Yet the decor of the different places is full of history and it's somewhat better, more authentic in any case.
On a cold Thursday night in January 2022, 3 DJs and 30 patrons were sharing the tiny ZuZu room, one of the 2 smallest venues of the complex with a 100 people capacity.
During the day, ZuZu is a restaurant serving Middle-East fare but starting at 10 am, it transforms itself. Tables and chairs are pushed at the front of the room and bands installs their gear in a corner at the rear. The decoration on the walls, the bar, the mirrors on one side and the wooden cabinets with windows make for a very warm and cozy atmosphere. You can come and talk to the musicians if you want, they are in the room before their set and if they will surely be local or from the New England area, it doesn't mean they won't be very good.
With at least 2 famous music schools, Boston doesn't lack talents and even if not all decide to become DJs, the ones you'll hear will be at least as good as what is offered in bigger places. At the Middle East, the musicians playing are not allways well known, you don't always have the lights and the visuals but you'll surely have a good time.
Plus, it won't cost you much; the cover charge is often low, the drinks too, and with a bit of luck, you will even be able to find a free parking space in adjacent streets if you didn't take the T.
ZuZu/the Middle East is situated at Central Square between MIT and Harvard University. It means you can expect a young crowd with the vibrant and indie atmosphere unique to this area.
On this night and in this order, you could have listened to Jake Lacey, Stardust and Cephalux. They all have their tunes on Soundcloud which makes it much easier to decide beforehand if you'll enjoy the show.
After listening to them, my preference went to Stardust with her dynamic set perfect to dance.
As a rule, the Middle East has a very eclectic schedule. House/Techno is only one of their multiple offerings. I happened to see Felix Da Housecat, a DJ from Chicago, at Sonia, their 350 people capacity venue, and Felix Jaehn, a German DJ, at the Middle East Downstair, their 560 people capacity and biggest venue. Both shows were memorable so keep this place in mind.
To find other places to listen to music in the Boston area, go to Other Outings on the Boston.citywalks.space. You'll also find there 18 self-guided walks to discover the city at your own pace, one being Harvard and another one MIT.
——————————
Jouer à Zuzu/The Middle East à Cambridge dans le Massachusetts, ce n'est pas encore être une star mais c'est déjà un bon début.
Le Middle East existe depuis 1970 et on ne compte plus le nombre de groupes qui sont passés dans une de ses 5 boîtes de nuit, certains d'entre eux en route vers la gloire. Il a été plusieurs fois nommé meilleur lieu de concert dans la région de Boston et il est bien différent des clubs branchés du centre-ville de Boston. Ici, on vient pour la musique, pas pour le décor flashy. Pourtant le décor des différents lieux est chargé d'histoire et c'est plutôt mieux, plus authentique en tout cas.
Par un froid jeudi soir de janvier 2022, 3 DJs et 30 spectateurs se partageaient l'une des 2 plus petites du complexe, ZuZu, qui a une capacité de 100 personnes.
En journée, ZuZu est un restaurant servant des plats orientaux mais à partir de 10h, il se transforme. Les tables et les chaises sont repoussées à l'avant et les groupes installent leur équipement dans un coin au fond. La décoration des mur, les grandes glaces couvrant un côté, le bar, les placards vitrés en bois donnent une ambiance intime très chaleureuse. Vous pouvez venir discuter avec les musiciens si vous le souhaitez, ils sont dans la salle avant de jouer et s'ils seront sûrement locaux ou de la région de la Nouvelle-Angleterre, cela ne veut pas dire qu'ils ne seront pas très bons.
Avec au moins deux écoles de musique réputées, Boston ne manque pas de talents et si tous ne décident pas de devenir DJs, ceux que vous entendrez seront au moins aussi bien que ce qui est proposé dans de plus grands endroits. Au Middle East, les musiciens ne sont pas toujours très connus, vous n'aurez pas toujours les lumières et les visuels mais vous passerez sûrement un bon moment.
En plus, cela ne vous coûtera pas trop cher; l'entrée est souvent peu élevée, les boissons ont des prix raisonnables et avec un peu de chance, vous pourrez même trouver une place de parking gratuite dans les rues adjacentes si vous ne venez pas en métro.
Zuzu/The Middle East est situé à Central Square entre le MIT et l'Université de Harvard. Vous pouvez donc vous attendre à une foule jeune et à cette atmosphère vibrante et alternative qui est unique au quartier.
Ce soir-là et dans cet ordre, vous auriez pu écouter Jake Lacey, Stardust et Cephalux. Ils ont tous leurs morceaux sur Soundcloud ce qui permet de décider plus facilement à l'avance si vous allez aimer la soirée.
En les écoutant, ma préférence est allée à Stardust avec son set dynamique parfait pour danser.
De manière générale, le Middle-East a une programmation très éclectique. House/Techno ne sont qu'une de leurs multiples offres. Il m'est arrivé de voir Felix Da Housecat, un DJ de Chicago, à Sonia, leur salle d'une capacité de 350 personnes, et Felix Jaehn, un DJ allemand, au Middle East Downstair, leur plus grande salle avec une capacité de 560 personnes. Les deux étaient mémorables et c'est donc un endroit à garder en tête.
Pour trouver d'autres d'endroits où écouter de la musique dans la région de Boston, voyez Autres Sorties sur le site de Boston.citywalks.space. Vous y trouverez également 18 promenades auto-guidées pour découvrir la ville à votre rythme dont une à Harvard et une à MIT.