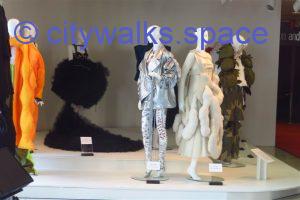 (texte en français ci-dessous)
If popular trends in clothing intrigues you, check out this little free museum located on the ground floor of the Fashion Institute of Technology along 7th Avenue in Chelsea.
You will find 3 galleries, one in general dedicated to historical objects from the museum's collection, that is to say superb clothes by well-known fashion designers which can date from the 18th century, another often exhibiting works by students and another specializing in thematic exhibitions.
The institute is one of the best in the world in its field and its exhibits which are an integral part of student education are often awarded with prizes. Your visit -count on one hour, will therefore be an opportunity to be amazed in front of outfits that you will not see every day even if some of the students, like some of the visitors, show a lot of originality in the choice of their clothes.
It is also possible that you will be able to see video productions and ads exhibited in parallel with what concerns fashion because it is also one of the institute's specialties.
Finally, to combine all of this with a more in-depth exploration of the neighborhood and some of its other venues, you can follow Walk in NYC #7 which starts in Grand Central, takes you around the west side of Midtown to Union Park and make a stop there.
External links:
---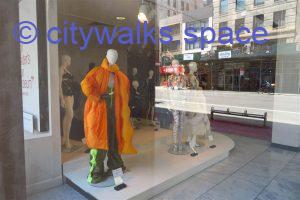 Si l'art de l'habillement vous intrigue, allez voir ce petit musée gratuit situé au rez-de-chaussée de l'institut technologique de la mode le long de la 7ième avenue dans Chelsea.
Vous y trouverez 3 galeries, une en général dédiée à des objets historiques de la collection du musée, c'est-à-dire de superbes vêtements de couturiers connus mais pouvant dater du 18ième siècle, une autre exposant souvent des oeuvres d'étudiants et une autre spécialisée dans des expositions thématiques.
L'institut est l'un des meilleurs au monde dans son domaine et ses expositions qui font partie intégrante de l'éducation des étudiants sont souvent récompensées par des prix. Votre visite -comptez une heure, sera donc l'occasion de vous étonner devant des tenues que vous ne verrez pas tous les jours même si certains des étudiants comme certains des visiteurs font preuve de beaucoup d'originalité dans le choix de leurs vêtements.
Il se peut aussi que vous puissiez voir des réalisations vidéos et des projets de publicité exposés en parrallèle à ce qui touche à la mode car c'est également une des spécialité de l'institut.
Enfin, pour combiner tout cela avec une exploration plus détaillée du quartier et de certains de ses autres lieux d'expositions, vous pouvez suivre la Promenade à NYC numéro 7 qui part de Grand Central, vous fait visiter le côté ouest de Midtown jusque Union Park et fait une halte à cet endroit.
Liens externes: