(texte en français ci-dessous)
Chic: is it the EDM or the Grand Boston? Est-ce l'EDM ou The Grand Boston?
EDM stands for Electronic Dance Music and it's a kind of music made for raves and clubs. At first glance, nothing particularly chic about it.
It became very popular at the beginning of the 21st century, yet it started around the 1970's when the first synthesizers appeared, and it slowly replaced disco. Kraftwerk, a German band still playing today, was a pioneer even though it was producing electronic music rather than EDM.
EDM has now plenty of sub-genre from house to techno to electro to trance to drum and bass, each with myriads of other sub-genres. What makes it unique is that it's uninterrupted beats per minute based on a kick drum, going from a 60 to a 200 bpm (the tempo generally defines the genre), with built-ups and drops that induce the need to dance and repetitive sounds with minimal lyrics. The DJ create a seamless selection of tracks (sometimes his or her own creation, sometimes remixed of previous songs) called a DJ mix.
——————-
EDM signifie Electronic Dance Music et c'est un genre de musique faite pour les raves et les clubs. A priori, rien de particulièrement chic en cela.
Ce genre est devenu très populaire au début du 21e siècle mais il a vu le jour vers les années 1970 lorsque les premiers synthétiseurs sont apparus et il a progressivement remplacé le disco. Kraftwerk, un groupe allemand toujours actif aujourd'hui, était un pionnier même s'il produisait de la musique électronique plutôt que de l'EDM.
L'EDM a maintenant beaucoup de sous-genres de la house à la techno en passant par l'électro, la trance et la drum and bass, chacun avec des myriades d'autres sous-genres. Ce qui la rend unique, c'est qu'il s'agit de battements par minute ininterrompus basés sur une boîte à rythmes, allant de 60 à 200 bpm (le tempo définit généralement le genre), avec des montées et des drops qui générent le besoin de danser et des sons répétitifs avec peu de paroles. Le DJ crée une sélection de morceaux (parfois de sa propre création, parfois des remix de chansons précédentes) appelée un DJ mix.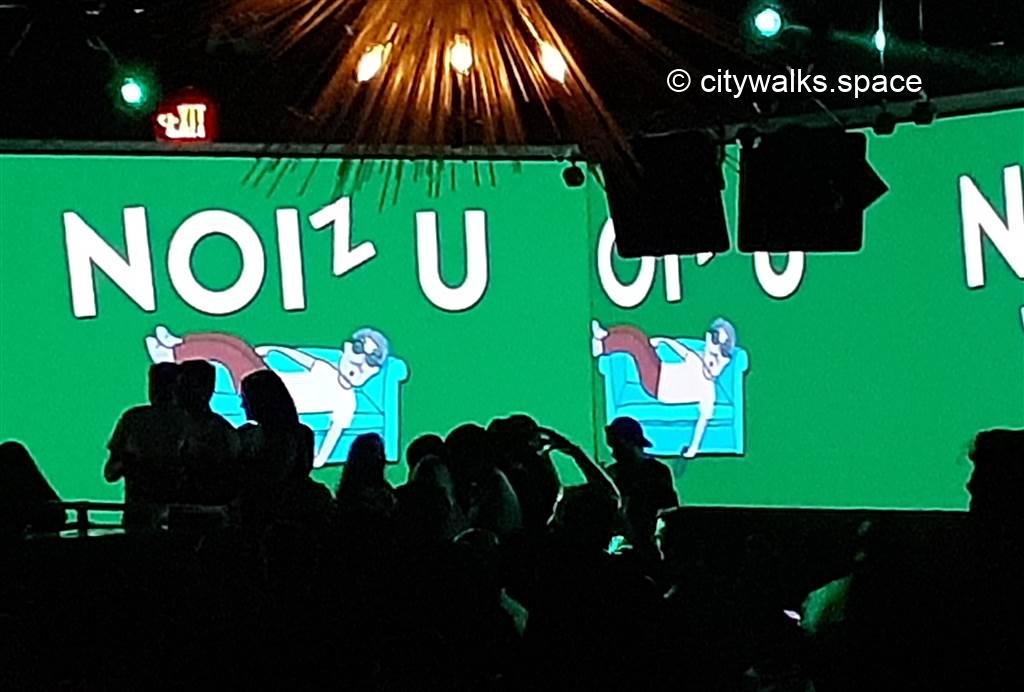 The venue – L'endroit
The Grand Boston promotes itself as a Vegas-style luxury nightclub where "VIP is not dead" and has, at least on paper, a strict dress code even though in reality, sneakers, jeans and t-shirts mix with more stylish nightlife attires.
Opened in 2018, it was at the time the newest and more sophisticated addition to Boston nightclubs.
Its drinks are rather expensive and most of the space, able to accommodate about 800 people, is taken by VIP tables. That's where the chic comes from, obviously, as it's a club where you show off. That's also what it wants to be and asks you to be, even if it sometimes has to make compromises to get revenues.
If you came to dance and see your favorite DJs, you'll probably regret that the dance floor is very small and that the atmosphere is a bit cold. Is it what EDM is really? You'll have to decide for yourself but in any case, the place hosts an interesting selection of DJs so you'll have a hard time not going there as they won't be anywhere else in town, whether you like chic EDM or not.
You won't be disappointed by the sound system, though, neither by the very elaborate light shows and the two adjacent walls of LED lights used to project colorful visuals during the entire night. So, why not? Especially on Thursday nights when the cover is often low and the selection favors the discovery of new talents.
To find The Grand, follow the Walk in Boston # 8, the trendy Seaport Fort Point district; it is not far from the new chapel of Notre-Dame du Bon Voyage where there too, it is advisable to dress properly, although in another style!
And for other places to listen to music, go to the Other outings page.
———-
The Grand Boston se présente comme une discothèque de luxe à la Vegas où "le VIP n'est pas mort" et elle a, au moins sur le papier, un code vestimentaire strict même si en réalité, baskets, jeans et t-shirts se mélangent avec des tenues de vie nocturne plus élégantes.
Ouvert en 2018, il était à l'époque la plus récente et la plus sophistiquée des boîtes de nuit de Boston.
Ses boissons sont assez chères et la plupart de l'espace pouvant accueillir jusque 800 personnes est composé de tables VIP. C'est de toute évidence de là que vient le chic car c'est un club où l'on se montre. C'est aussi ce qu'il veut être et vous demande d'être -même s'il lui faut parfois faire des compromis pour assurer des revenus.
Si vous êtes venu.e.s pour danser et voir vos DJ préférés, vous regretterez probablement que la piste soit très petite et que l'ambiance soit un peu froide. Est-ce vraiment cela l'EDM ? A vous de décider mais dans tous les cas, l'endroit accueille une sélection de DJ intéressante et vous aurez du mal de ne pas y aller vu que vous ne pourrez pas les voir ailleur en ville.
Vous ne serez pas déçu.e.s par le système de son, ceci dit, ni par les jeux de lumière très élaborés et les deux murs adjacents avec des lumières LED utilisées pour projeter des visuels colorés pendant toute la nuit. Alors, pourquoi pas? Particulièrement le jeudi soir où les prix d'entrée sont souvent bas et la sélection favorise la découverte de nouveaux talents.
Pour trouver The Grand, suivez suivez Promenade à Boston numéro 8, Fort Point Seaport, 2 quartiers branchés. Il est non loin de la nouvelle chapelle Notre-Dame du Bon Voyage où là aussi, il convient de s'habiller convenablement, quoique dans un autre style!
Et pour d'autres endroits où aller écouter de la musique, allez à la page Autres sorties.
Some of the DJs – Quelques-uns des DJs
Frank Walker, a Canadian DJ, produces EDM dance-pop tunes like Kiss me. He was the first act before Felix Cartal, another Canadian DJ from Vancouver (no photo good enough to be posted) who produces electro-house/nu-disco tunes like Runeaway. Both performed with their own energy and particular sound.
Black Caviar is supposed to be a duo from New York but each time I saw "them", it was a solo act. It introduced the next two DJs below during two different nights with catchy hip hop/ghetto house tracks like You ain't gotta bounce to this.
CID, a New York based DJ, produces house/electro house tracks like Werk and frankly, I was too tired to stay long and listen to him the night he came, especially because Black Caviar had made me dance a lot already!
Noizu, coming from Los Angeles, produces feel-good tech house and house music like Summer 91. His visuals are fun to look at and go well with his style.
————–
Frank Walker, un DJ canadien, produit des airs dance-pop EDM comme Kiss me. Il était le premier acte avant Felix Cartal, un autre DJ canadien de Vancouver (aucune photo assez bonne pour être publiée) qui produit des airs électro-house/nu-disco comme Runeaway. Les deux avaient beaucoup d'énergie, chacun dans son genre.
Black Caviar est censé être un duo new-yorkais mais à chaque fois que je "les" ai vus, c'était un solo. Il venait en 1ère partie des deux DJ ci-dessous lors de deux soirées différentes et à chaque fois, j'ai aimé ses morceaux accrocheurs de hip hop et de ghetto house comme You ain't gotta bounce to this.
CID, un DJ basé à New York, produit des morceaux house/electro house comme Werk et franchement, j'étais trop fatigué pour rester longtemps à l'écouter le soir de sa venue, surtout que Black Caviar m'avait fait déjà bien danser !
Noizu, originaire de Los Angeles, produit des airs tech house et house music comme Summer 91, très accrocheurs. Ses visuels sont plein d'humour et vont bien avec son style.