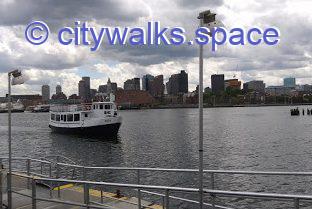 (texte en français ci-dessous)
The little ferry Charlestown Navy Yards – Boston Aquarium is a unique experience, and it can end Walk in Boston # 5, the historic Charlestown.
For 10 minutes, you are on a mini-cruise that brings you in front of the North End, then into the heart of the city. It offers many opportunities for great photos of the Boston skyline.
There are even seats on the outer deck, facing the city!
If it doesn't appeal to you, you still have the option to take the Charlestown Bridge. You'll arrive next to North Station, and it will add about one mile to your walk.
——————————-
Le petit ferry Charlestown Navy Yards – Boston Aquarium est une expérience unique et il peut finir Promenade à Boston numéro 5, Charlestown l'historique .
Pendant 10 mn, vous faites une mini-croisière qui vous fait passer en face du North End puis arrive au coeur de la ville. Elle offre de nombreuses opportunités de super photos des gratte-ciel de Boston.

Il y a même des sièges sur le pont extérieur, faisant face à la ville!
Si cela ne vous dit pas, vous avez toujours l'option de prendre le pont de Charlestown. Vous arriverez près de North Station et cela ajoutera environ 1.5km à votre marche.
Recent news – Nouvelles récentes
I'm working on a series of new sites related to citywalks and ldart.work. They will progressively replace UrbanTrekking.space and LecomteDominique.com.
My previous host couldn't easily solve some new technical constraints which is whay I decided to redo everything. It was unexpectded! It will keep me busy for months. It means little time to post here regularly.
——————————-
Je travaille sur une séries de nouveaux sites en relation avec Promenades en ville et ldart.work. Ils vont progressivement remplacer UrabnTrekking.space et LecomteDominique.com.
Mon hôte précédent ne pouvait pas facilement résoudre de nouvelles contraintes techniques, c'est pourquoi j'ai décidé de tout refaire. Ce n'était pas prévu! Cela va m'occuper pendant des mois. Cela veut dire peu de temps pour publier ici régulièrement.