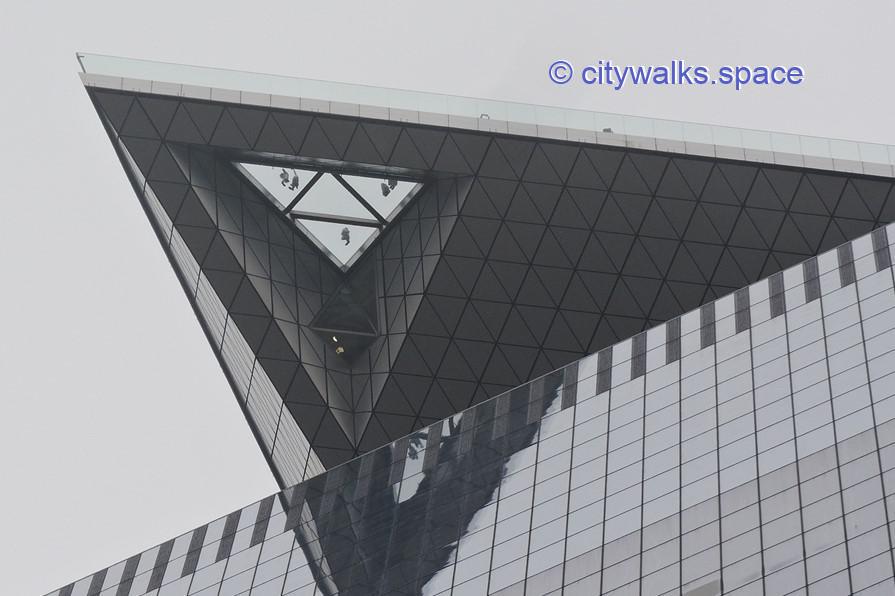 (texte en français ci-dessous)
The Edge is the final piece of the new Hudson Yards complex and it opened to the public in March 2020, then again in September after several months of closure due to Covid-19.
On the platform that soars into the sky, you are about 1100 feet high, suspended in the void with tilted windows around the perimeter that increase the sensation of motionless flight. Inside the building, a 360-degree view of the city.
It's the most recent attraction of New York and New York being New York, it can only be out of the ordinary: the highest observatory in the western hemisphere, an ascension which is also an opportunity to a mini-show, a restaurant, a gift shop and the possibility of having a glass of champagne in the open air if that suits you, with the Empire State building in front of you.
And then, of course, in the center of the platform, the glass floor that allows you to float above the street! With a bit of imagination, but it's fun anyway.
Once back down, you will find the two other spectacular constructions of the place, The Shed, a performance hall / arts center with a removable structure that allows the space to be enlarged if necessary and The Vessel, an Escher style tower which is like the jewel of the place, placed in the middle of the glass buildings which soar around you.
You can then continue your visit with Walk in NYC # 4, the High Line-Hudson River stroll. It just starts at Hudson Yards and promises you at least 2 hours of additional discoveries.
---
The Edge à Hudson Yards est la pièce finale de la rénovation du quartier et a ouvert au public en mars 2020, puis à nouveau en septembre après plusieurs mois de fermeture à cause du Covid-19.
Sur la plate-forme qui s'élance dans le ciel, vous êtes à environ 350 mètres de hauteur, suspendu.e.s dans le vide avec sur le pourtour des vitres inclinées qui augmentent la sensation de vol immobile. A l'intérieur du building, une vue de la ville à 360 degrés.
C'est l'attraction la plus récente de New York et New York étant New York, elle ne peut être que hors-normes: le plus haut observatoire de l'hémisphere occidental, une ascension qui est aussi l'occasion d'un mini-show, un restaurant, une boutique de souvenirs et la possibilité de boire un verre de champagne en plein air si cela vous dit avec l'Empire State building en face de vous.
Et puis, bien sûr, au centre de la plate-forme, le plancher en verre qui vous permet de flotter au-dessus de la rue! Avec un peu d'imagination mais c'est tout de même bien.
Une fois redescenudu.e.s, vous trouverez les deux autres constructions spectaculaires de l'endroit, The Shed, une salle de spectacle/centre des arts avec une structure amovible qui permet d'agrandir l'espace si besoin et The Vessel, une tour à la Escher qui est comme le joyau de l'endroit, posé au milieu des buildings en verre qui s'élancent autour de vous.
Ensuite, vous pourrez continuer votre visite avec la Promenade à NYC numéro 4, de la High Line à l'Hudson River. Elle commence juste à Hudson Yards et vous promet au moins 2 heures de découvertes supplémentaires.