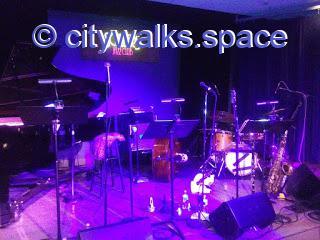 (texte en français ci-dessous)
A jazz night often starts with small tables of 4 facing a stage. It means you end up with strangers, and it's part of the atmosphere. After each solo, everyone applauds. There are many solos and you applaud a lot. It's also part of the atmosphere.
In general, the better the musicians, the cooler they are. Plus, they tell you stories between numbers.
Go to Scullers Jazz Club in Allston and you'll have all this, plus an excellent sound system and a very classy space.
The venue is not easy to access without a car, you'll have to plan a little in advance. But the musicians are always top notch and they make the reputation of the place.
That particular night, a few months ago, it was the Dave Douglas-Elan Mehler Sextet, with Dominique Eade as a guest.
To learn more about this club, go to Boston Walk, page Other outings. This is one of the places on the list.
To listen to some performers, see some recordings live at Scullers Jazz Club.
---
Une soirée de jazz, ce sont souvent des petites tables de 4 faisant face à une scène. On se retrouve avec des inconnus et ça fait partie de l'ambiance. Après chaque solo, chacun applaudit. Comme des solos, il y en a beaucoup, on applaudit beaucoup. Ça fait aussi partie de l'ambiance.
En général, plus ils sont bons, plus les musiciens sont cools. Ils racontent aussi des histoires entre deux morceaux.
Si vous allez à Scullers Jazz Club à Allston, vous aurez tout cela plus une excellente sono et un décor très classe.
Comme l'endroit n'est pas facile d'accés sans voiture, il faudra planifier un peu à l'avance mais les musiciens sont toujours de qualité et ils font la réputation de l'endroit.
Ce soir là, il y a quelques mois, c'était le Dave Douglas-Elan Mehler Sextet avec Dominique Eade comme invitée.
Pour en savoir plus sur ce club, allez à Promenades à Boston, page Autres sorties. C'est un des endroits de la liste.
Pour écouter certains musiciens, voyez leurs enregistrements live at Scullers Jazz Club.