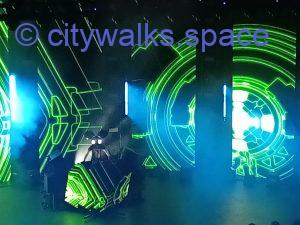 (texte en français ci-dessous)
Electro with Deadmau5 We Are Friends Tour at MGM Fenway, Boston, December 2022
What's better than a big electro house party when it's raining outside, full of heavy bass and a tempo averaging 130 beats per minute?
That was on the program at MGN Fenway on December 16 with Deadmau5 and his We Are Friends Tour.
Deadmau5 's Friends are very good so you can arrive as soon as the venue opens, about 3 hours before he plays, and you won't be disappointed. On the other hand, you may be tired when it's his turn if you dance from the start, but the advantage of his shows is that they are so visual that you sometimes have to sit down to better appreciate them, so this will be an opportunity to take breaks!
That night, Morgin Madison was the first to appear with unfortunately for him not many spectators despite a mix of cool house and hard beats which should gradually become better known.
He was followed by Kasablanca and even if not much is known about this duo who apparently comes from Canada, their mix of house and techno and their presence on stage is a bit reminiscent of the French duo Justice and a pleasure to hear.
Nero came next, not the full trio but just one member that night, yet a powerful sound and some of the classics of the band which is said to have inspired Deadmau5.
Finally, and for the last 2 hours, Deamau5 with or without his ears distilling his improvisations suddenly leading to his most famous titles or other more recent ones, all against an extraordinary visual background. To see him is to go beyond electro house to experience a unique creator, quirky, almost frail in the middle of a large stage surrounded by walls of lights but also like a playful captain in command of his ship.
As for the venue, MGM Fenway opened in August 2022 and can accommodate around 5,000 people. It is practically opposite House of Blues where Deadmau5 had spent 4 nights in a row a few years ago around the same time.
Whether you're upstairs in a seat or downstairs on the dance floor, the view is great and the performers stay close to you. That evening, the room was not far from being completely filled, which made for an impressive number of spectators.
External links:
To find other places to listen to music in or around Boston, go to the other outings page on boston.citywalks.space.
To get an idea of what Morgin Madison is playing, listen to Time; for Kasablanca live, try Afterglow; for Nero, here is a classic, Promises; for Deamau5, here is an excerpt from his show.
---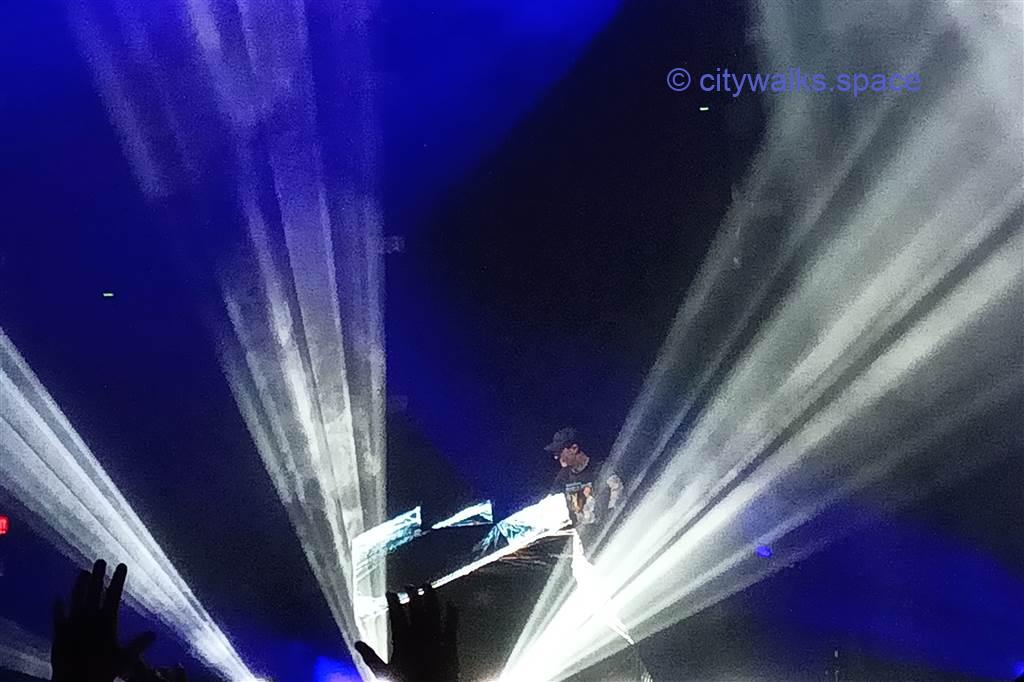 Electro avec Deadmau5 We Are Friends Tour à MGM Fenway, Boston, Décembre 2022
Quoi de mieux qu'une grande soirée electro house quand il pleut dehors, pleine de lignes de basse avec un tempo d'environ 130 battements par minute?
C'était ce qui était au programme à MGN Fenway le 16 décembre avec Deadmau5 et son We Are Friends Tour.
Les amis de Deadmau5 sont tous très bons donc vous pouvez arriver dès le début du concert, environ 3 heures avant qu'il ne joue, et vous ne serez pas décu.e.s. Vous serez par contre peut-être fatigué.e.s quand il arrivera si vous dansez tout le temps mais l'avantage de ses spectacles, c'est qu'ils sont si visuels qu'il faut parfois s'assoir pour mieux les apprécier donc ce sera l'occasion de faire des pauses!
Ce soir là, Morgin Madison faisait l'ouverture avec malheureusement pour lui pas encore beaucoup de spectateurs malgré un mix de cool house et hard beats qui devrait devenir progressivement plus connu.
Il était suivi par Kasablanca et même si on ne sait pas grand chose de ce duo qui viendrait du Canada, leur mix de house et techno et leur présence sur scène font un peu penser au duo français Justice et on ne s'en lasse pas.
Nero venait ensuite, pas le trio au complet mais juste un de ses membres ce soir là avec un son puissant et des classiques de ce groupe dont on dit qu'il aurait inspiré Deadmau5.
Enfin et pendant 2 heures, Deadmau5 avec ou sans ses oreilles distillant ses impros menant soudain à ses titres les plus connus ou d'autres plus récents, le tout sur un fond visuel extraordinaire. Le voir, c'est aller au delà de l'électro house pour faire l'expérience d'un créateur unique, décalé, presque frêle au milieu d'une grande scène entourée de murs de lumières mais aussi comme un capitaine joueur aux commandes de son navire.
Pour ce qui est de la salle, MGM Fenway a ouvert en août 2022 et peut accueillir environ 5000 personnes. Elle est pratiquement en face de House of Blues où Deadmau5 était passé 4 soirs de suite il y a quelques années à peu près à la même époque.
Que vous soyez en haut sur un siège ou en bas sur la piste de danse, la vue est excellente et les artistes restent proches de vous. Ce soir là, la salle n'était pas loin d'être complétement remplie ce qui fait un nombre impressionnant de spectateurs.
Liens externes:
Pour trouver d'autres endroits où écouter de la musique à ou autour de Boston, allez à la page Autres Sorties de Boston.citywalks.space.
Pour avoir une idée ce que joue Morgin Madison, écoutez Time; pour Kasablanca live, essayez Afterglow; pour Nero, voila un classique, Promises; pour Deamau5, voila un extrait de son spectacle.