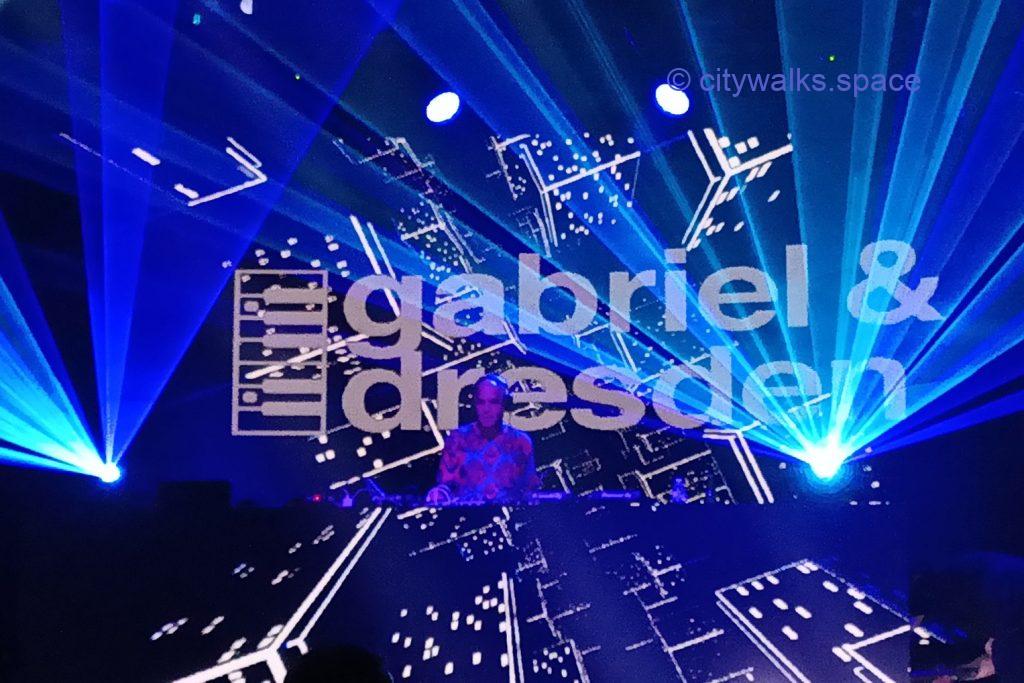 (texte en français ci-dessous)
Gabriel and Dresden at Royale Boston, Feb 10, 2023
Going to listen to a DJ at Royale means waiting at least 10 p.m. and rather 11p.m. since the headliner won't be there before midnight, at best.
Boston at this hour is already the city of the night. The spectators of the musicals and other family-oriented shows are out, the night-clubbers arrive. It is not the same population, younger, more eccentric, noisier. They are sometimes extremely well dressed but most often relaxed like on campus. Some more wealthy or pretending to be that way park in double line to show off their cars. Drug dealers, junkies and homeless people are there too, and it creates a special atmosphere where it is best to walk with a firm step and avoid making eye contact.
Later, when the nightclubs all empty at the same time, the police will be there to block certain streets, redirect traffic, calm people down. It is another city, more mysterious and sometimes slightly disturbing.
Once you enter Royale after passing the controls and climbing the stairs that lead to the venue, everything changes. It's warm, big while remaining intimate, the sound is perfect, the lights and decor live up to the name of the place and the drinks are still reasonably priced. The public who came mainly to show themselves has emigrated to other places and only those who want to dance and/or see world-renowned artists remain.
The room that evening was not full but sufficiently full to create this special atmosphere of live concerts. Also, as Gabriel and Dresden without Gabriel played from open to close, arriving early was possible and this is always good news for those working the next day because it allows them to leave around midnight after having still enjoyed at least 2 hours of show.
Gabriel and Dresden are the best of progressive trance and about ten years ago, before they broke up and later started working together again, they were top of the world's DJs. They have lost nothing of what made them popular.
If like me you thought you didn't like trance music, listen to them. The progressive label attached to it and the addition of house influences will undoubtedly make you change your opinion.
They often remix hits from the 80s with more recent ones and it's a mixture that brings a smile to the lips of their spectators when they recognize the melodies.
I'm not making this up, my unknown neighbor's face lit up as she listened to them and she was far from the only one.
External links:
---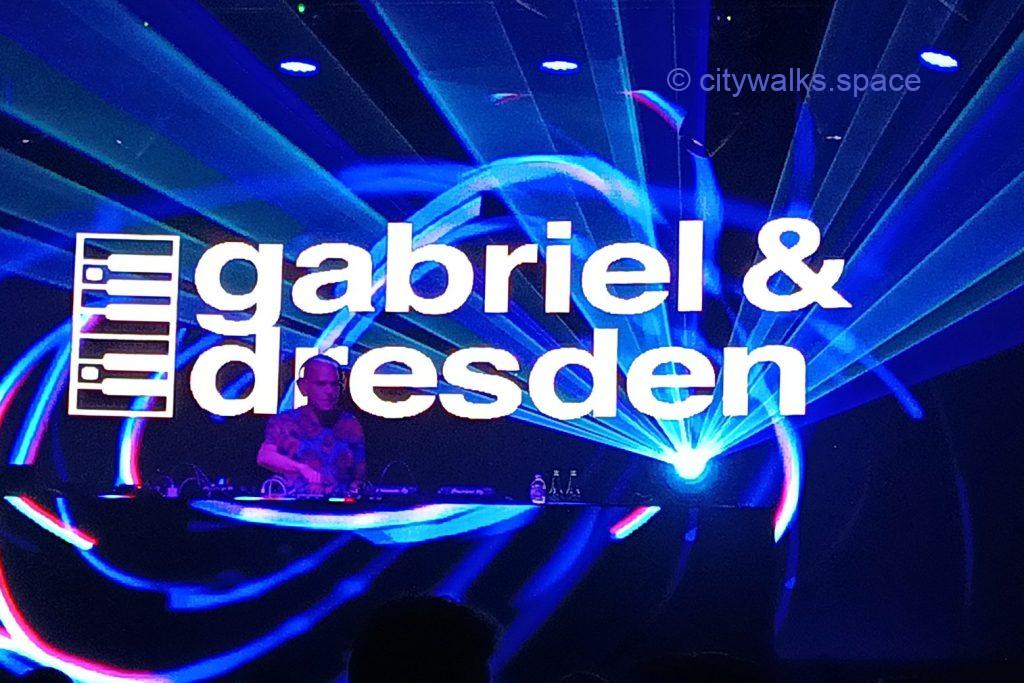 Gabriel and Dresden à Royale Boston, 23 février 2023
Aller écouter un DJ à Royale, c'est attendre au minimum 10 heures du soir et plutôt 11 vu que la tête d'affiche ne sera pas là avant minuit, au mieux.
Or Boston à cette heure, c'est déjà la ville de la nuit. Les spectateurs des musicaux et autres spectacles familiaux sont sortis, arrivent les night-clubbers. Ce n'est pas la même population, plus jeune, plus eccentrique, plus bruyante. Elle est parfois extrémement bien habillée mais le plus souvent décontractée comme sur les campus. Certains plus fortunés ou le prétendant se garent en double file pour faire admirer leurs voitures. Les dealers, junkies et sans-abris sont là aussi, ça fait une ambiance particulière où le mieux est de marcher d'un pas décidé en évitant de croiser les regards.
Plus tard quand les night-clubs se videront tous en même temps, la police sera là pour barrer certaines rues, rediriger le traffic, calmer les esprits. C'est une autre ville, plus mystérieuse et parfois légérement inquiètante.
Une fois entré à Royale après avoir passé les contrôles et monté l'escalier qui mène à la salle, tout change. C'est chaleureux, grand tout en restant intime, le son est parfait, les lumières et les décors à la hauteur du nom de l'endroit et les consommations à des prix encore raisonnables. Le public qui venait surtout pour se montrer a émigré vers d'autres endroits et il ne reste que ceux qui veulent danser et/ou voir des artistes de réputation mondiale.
La salle ce soir là n'était pas comble mais suffisamment remplie pour créer cette ambiance si particulière des concerts en direct. De plus, comme Gabriel and Dresden sans Gabriel jouait de l'ouverture à la fermeture, arriver tôt était possible et c'est toujours une bonne nouvelle pour ceux qui travaillaient le lendemain car ça permet de partir vers minuit après avoir tout de même profité d'au moins 2 heures de spectacle.
Gabriel and Dresden, c'est le meilleur de la trance progressive et il y a dix ans environ, avant qu'ils ne se séparent puis se remettent à travailler ensemble, ils caracolaient au top des DJ mondiaux. Ils n'ont rien perdu de ce qui les rendaient populaires.
Si comme moi vous pensiez que vous n'aimiez pas la trance music, écoutez les. Le label progressive qui y est attaché et l'ajout d'influences house vous fera sans doute modifier votre opinion.
Ils remixent souvent des tubes des années 80 avec d'autres plus récents et c'est un mélange qui apporte un sourire sur les lèvres de leurs spectateurs quand ils reconnaissent les mélodies.
Je n'invente rien, ma voisine inconnue avait le visage qui s'illuminait en les écoutant et elle était loin d'être la seule.
Liens externes: