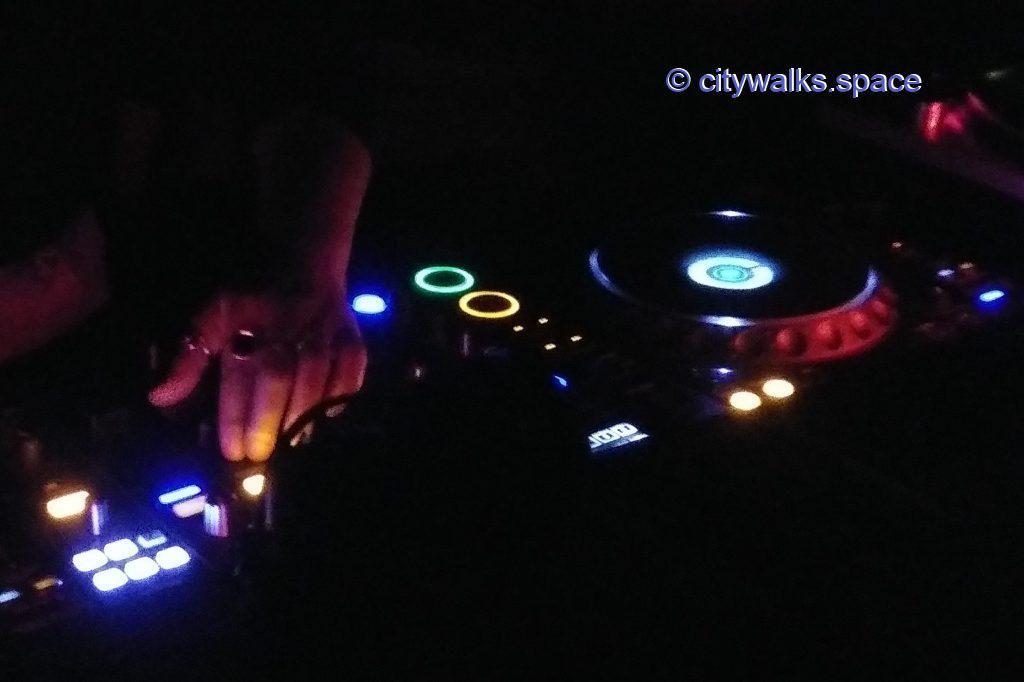 (texte en français ci-dessous)
If, like me, you search Analog Soul live on YouTube, it's not sure you'll find the kind of tunes they deliver in a club. The sister duo from New York are very versatile, between groove and acid, disco and electronica.
It means you could ignore them if you are looking for an evening of high energy dancing when in fact, that's what you'll get. Go to Soundcloud instead, and check out this 1 hour track.
They were at Middlesex Lounge last Thursday, along with Trip Report and Matt McNeill, the very efficient resident DJs of CreateSpace Collab. It was Halloween, but nothing scary here, only good vibes.
CSC is a collective aiming at bringing new house and techno artists to Boston. Middlesex Lounge specializes in new electro music, at least on Thursdays. That was a good match.
NB: this place is now closed (since 2021, due to Covid I guess).
To find other places to listen to music in or near Boston, you can go to the page Other outings on Boston Walks.
---
Si, comme moi, vous cherchez Analog Soul live sur YouTube, ce n'est pas sûr que vous trouverez le genre de musique qu'elles jouent dans un club. Les deux soeurs new-yorkaises sont très polyvalentes, entre groove et acid, disco et electronica.
Cela signifie que vous pourriez passer à côté d'elles si vous voulez une soirée haute énergie alors qu'en fait, c'est ce que vous aurez. Allez plutôt écouter ce morceau d'une heure sur Soundcloud.
Elles étaient au Middlesex Lounge jeudi dernier, avec Trip Report et Matt McNeill, les très efficaces DJ résidents de CreateSpace Collab. C'était Halloween mais rien d'effrayant là dedans, seulement de bonnes vibrations.
CSC est un collectif visant à attirer de nouveaux artistes house et techno à Boston. Le Middlesex Lounge est spécialisé dans la nouvelle musique électro, au moins le jeudi soir.. C'était donc une bonne rencontre.
NB: cet endroit est maintenant fermé (depuis 2021, cause Covid sans doute).
Pour trouver d'autres lieux où écouter de la musique à Boston ou ses environs, vous pouvez aller sur la page Autres sorties sur Promenades à Boston.