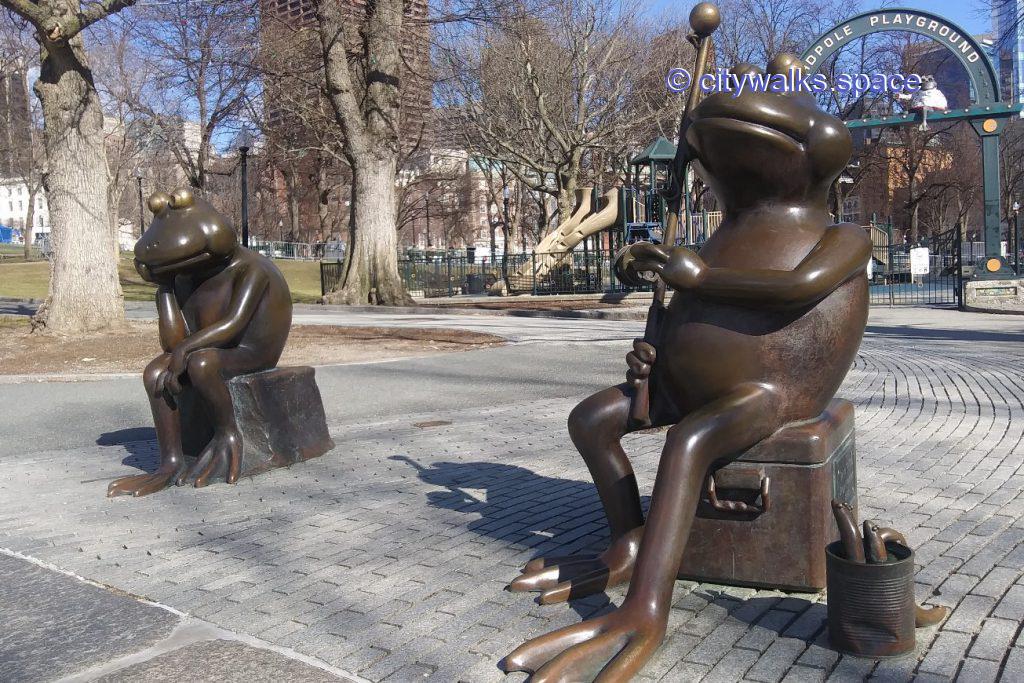 (texte en français ci-dessous)
The fisherman wife, it seems by looking at her, will often be bored while her man is having fun!
Whatever the truth of it, they are both at the edge of Frog Pond in Boston Common. And when a family come, you can bet the little girls will have their photos taken on Madame, the little boys on Monsieur. Some things do not change!
Behind them, sitting on the front door of the play area, the youngest. He's full of mischief but for the moment, he seems calm enough, yet in a fairly dangerous position. He is always dressed either in the colors of the Boston sports team playing at the time, or in clothes appropriate to the season. We must therefore imagine adults who regularly come to change them.
This is the magic of these bronze sculptures by David Phillips: they trigger our imagination and awaken our childish souls. Don't miss out on them if you're around.
In fact, you'll see them if you follow Walk in Boston # 11, Beacon Hill and surrounding parks, a 3 miles self-guided tour that will bring you along the Charles, in the Public Garden, on the Common and then in Beacon Hill.
Otherwise, if it's only playing that you like, why not try a 500 pieces Boston Common puzzle and keep looking at the frogs?!
---
Il semble en les regardant que la femme du pêcheur est destinée à s'ennuyer pendant que monsieur s'amuse!
Quoiqu'il en soit, ils sont là tous les deux là au bord de Frog Pond dans le Boston Common. Si une famille arrive, il a fort à parier que les petites filles se feront prendre en photo sur madame, les petits garçons sur monsieur. Il y a des choses qui ne changent pas.
Derrière eux, assis sur la porte d'entrée de l'aire de jeu, le plus jeune. Il ne fait que des bêtises mais pour l'instant, il semble tranquille bien que dans une position assez dangereuse. Il est toujours habillé soit des couleurs de l'équipe de sport de Boston qui fait parler d'elle à ce moment là, soit de vêtements de saison. Il faut donc imaginer des adultes qui viennent régulièrement les lui changer!
C'est bien la magie de ces sculptures en bronze de David Phillips: elles font marcher notre imagination et réveillent nos âmes d'enfants. Ne vous privez donc pas de ce spectacle si vous êtes dans les environs.
Vous les verrez en particulier si vous suivez Promenade à Boston numéro 11, Beacon Hill et les parcs, un parcours auto-guidé de 5km qui vous fera passer le long de la Charles River, dans le Public garden puis le Common et enfin à Beacon Hill.
Plusieurs plaisirs sur le même parcours, en somme!