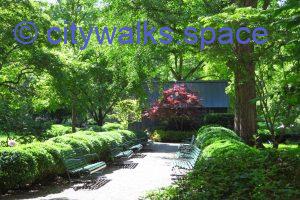 (texte en français ci-dessous)
Writing an article on Gramercy Park is dangling more than reality can give because the place is private, accessible only to residents who pay an annual subscription to have a key to it. This allows them to walk in peace in this small, shaded park, to sit down to read on benches that are always available, to enjoy the trees and flowers that make the charm of the park. This was also one of the selling points in the 1830s when the place was developed on the site of a marsh.
To go there, however, is having a chance discover it behind the gates that border it but nevertheless allow you to appreciate a large part of it. It also means discovering a unique architectural ensemble on its periphery. You will therefore not be in the park, but you will nevertheless be in an enclave of tranquility and opulence a stone's throw from busier and more popular arteries.
Starting from Irving Pl. and turning left, you will see The Players, a private club for artists and actors founded in 1888 in a neo-Gothic style mansion. Next door and established in another mansion built in 1840 but redesigned in the 1860s in the style of the Aesthetic Movement, is The National Arts Club, a club that is also private but whose high-quality exhibitions are generally open to the public and free of charge. Turning right to stay on the edge of the park, you will see the superb wrought iron terraces of 2 Gramercy Park West.
On the north side, the buildings are more classic but on the east side, you will find 36 Gramercy Park East, one of the architectural jewels of the place built in 1909 in a French Gothic style, grandiose with its gargoyles, its arches, its cherubim and its entrance flanked by two armored guards.
In the surrounding area, also be sure to take E 19th St between Irving Pl and 3rd Ave. You will then be in Block Beautiful, a row of brick and stucco townhouses from the early 20th century that was once an artists' colony.
In fact, if you want to fit it all into a more comprehensive tour of the neighborhood, take the Walk in # 8, Midtown East Side, which starts at Union Square and goes to Grand Central past Gramercy Park and the banks of the East River.
External links:
---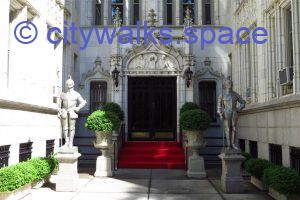 Faire un article sur Gramercy Park, c'est faire miroiter plus que la réalité ne pourra donner car l'endroit est privé, accessible seulement aux riverains qui paient un abonnement annuel pour en possèder une clé d'accés. Cela leur permet de se promener en toute tranquillité dans ce petit parc ombragé, de s'assoir pour lire sur des bancs toujours libres, de profiter des arbres et fleurs qui font le charme du parc. Ce fut d'ailleurs un des arguments de vente dans les années 1830 quand l'endroit fut développé sur l'emplacement d'un marais.
Y aller pourtant, c'est le découvrir derrière les grilles qui le bordent mais permettent pourtant d'en apprécier une grande partie. C'est aussi découvrir un ensemble architectural unique sur son pourtour. Vous ne serez donc pas dans le parc mais vous serez cependant dans une enclave de tranquillité et d'opulence à deux pas d'artères plus passantes et plus populaires.
En partant de Irving Pl. et en tournant sur la gauche, vous verrez The Players, un club privé pour artistes et acteurs fondé en 1888 dans un manoir de style néo gothique. A cote et établi dans un autre manoir construit en 1840 mais redessiné dans les années 1860 dans un style du Movement Esthetique, The National Arts Club, un club lui aussi privé mais dont les expositions de grande qualité sont généralement ouvertes au public et gratuites. En tournant ensuite à droite pour rester sur le pourtour du parc, vous verrez les superbes terrasses en fer forgé de 2 Gramercy Park West.
Côté nord, les bâtiments sont plus classiques mais côté est, vous trouverez 36 Gramercy Park East, un des joyau architectural de l'endroit datant de 1909 et construit dans un style Gothique Francais, grandiose avec ses gargouilles, ses arches, ses chérubins et son entrée flanquée de deux gardes en armure.
Dans les environs, ne manquez pas non plus de prendre la E 19th St entre Irving Pl et 3rd Ave. Vous serez alors dans Block Beautiful, une rangée de maisons de ville en brique et en stuc du début du 20ième siécle qui fut par un temps une colonie d'artistes.
En fait, si vous voulez intégrer tout cela dans une visite plus complète du quartier, prenez la promenade à NYC numéro 8, Midtown Côté Est, qui part de Union Square et va à Grand Central en passant Gramercy Park et les berges de la East River.
Liens externes: