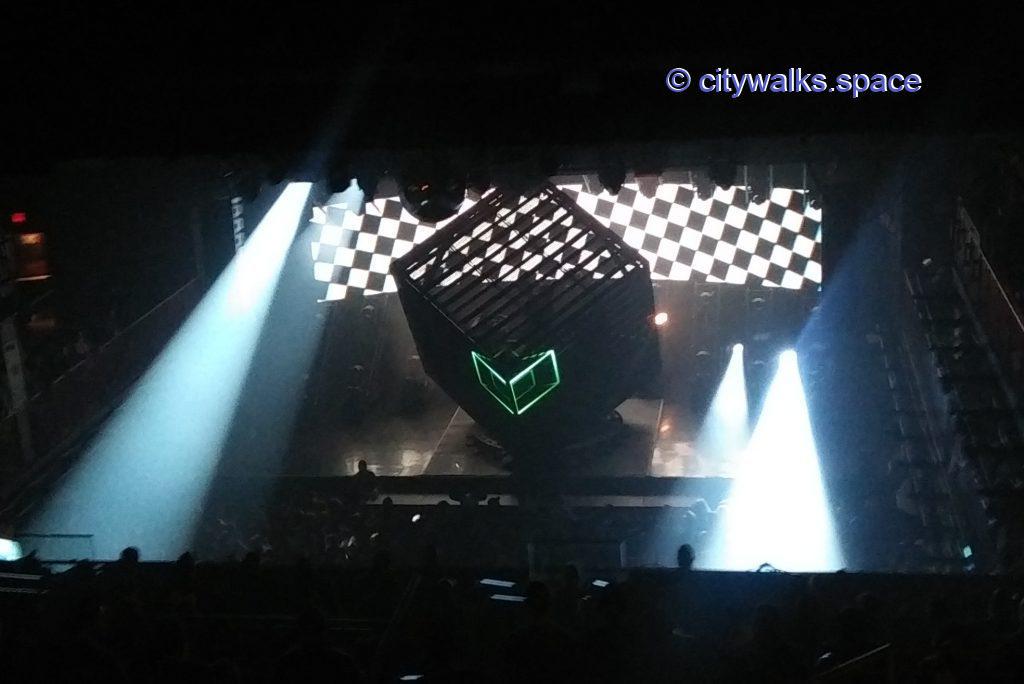 (texte en français ci-dessous)
Deadmau5 is extravagant with his big ears mouse mask. He is so in his musical compositions, his attitude in life, his tweets annoying all the other DJs on earth, his innumerable excesses. He has a touch of genius and the madness that goes with it. No surprise, then, that his shows are excessive, extraordinary, baroque.
He was yesterday at House of Blues Boston for a 2nd show with almost full house, and before two others today and tomorrow. Not to mention the after-parties at Bijou and Big Night Live. How does he manage to maintain the energy necessary for this new world tour of several months, one can only guess.
In any case, if you like what he does, don't hesitate to go see him. You will have a lot to fulfill your eyes and your ears. Imagine yourself in a museum of contemporary art with strange and colorful videos; add electronic pulsations which take you in the guts; and an audience which knows all its tubes. You will also have the surprise of the Cube that transforms itself, moves and, like the rest, was born of his imagination.
In addition, House of Blues has a remarkable sound system that will not make your ears ring when you get home.
On the ground floor, in front of the stage, a dance floor that can accommodate around 1500 people.
On the first and second floor, between 500 and 700 other people share different spaces, some with seats and perfect view, others with standing room only and with little view if you do not arrive early enough to be in the first row.
The bars are numerous, the prices of drinks reasonable for the quality of the place and the shows scheduled.
To find more venues to visit or to listen to music in or near Boston, go to the Beyond Boston page at Boston.citywalks.space.
As for Deadmau5, his new title, Coasted, is available here.
The openers were the british Jay Robinson and the Canadians MSTRKRFT, two big names on the international scene that would warrant an article by themselves (see photos below).
---
Deadmau5 est extravagant avec son masque de souris aux grandes oreilles. Il l'est dans ses compositions musicale, son attitude dans la vie, ses tweets qui le fâchent avec tous les DJ de la terre, ses excès innombrables. Il a une touche de génie et la folie qui va avec. Aucune surprise donc que ses shows fassent dans la démesure, l'extraordinaire, le baroque.
Il était hier à House of Blues Boston pour un 2ieme show à salle presque comble et avant deux autres aujourd'hui et demain, sans compter les after-party à Bijou et Big Night Live. Comment fait-il pour maintenir l'énergie nécessaire à cette nouvelle tournée mondiale de plusieurs mois, on ne peut que se le demander.
Dans tous les cas, si vous aimez ce qu'il fait, ne vous privez pas d'aller le voir. Vous en prendrez plein les yeux et les oreilles. Imaginez vous dans un musée d'art contemporain aux vidéos étranges et colorées, ajoutez en plus des pulsations électroniques qui vous prennent aux tripes et un public qui connait tous ses tubes. Vous aurez en plus la surprise du cube qui se transforme, se déplace et, comme le reste, est né de son imagination.
Par ailleurs, House of Blues a une sono remarquable qui ne vous fera pas tinter les oreilles une fois rentré.e.s chez vous. Au rez-de chaussée, devant la scène une piste de danse qui peut accommoder environ 1500 personnes.
Au premier et second étage, entre 500 et 700 autres personnes se partagent différents espaces, certains avec sièges et vue parfaite, d'autres en standing only et avec peu de vue si vous n'arrivez pas assez tôt pour être au 1er rang.
Les bars sont nombreux, les prix des consommations raisonnables pour la qualité de l'endroit et des spectacles programmés.
Pour trouver d'autres endroit à visiter ou pour et écouter de la musique à ou autour de Boston, allez à la page Au delà de Boston sur Boston.citywalks.space/fr/
Quand à Deadmau5, son nouvel titre, Coasted, est disponible ici.
En première partie, deux autres grandes pointures internationales qui pourraient faire un article à elles seules, l'anglais Jay Robinson et les canadiens MSTRKRFT.