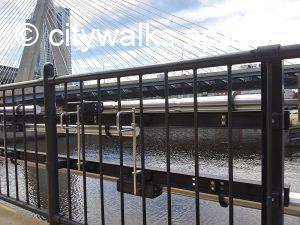 (texte en français ci-dessous)
Every time I pass by, I like to ring the Charlestown Bells but as I am often the only one to do so, I also hope to inspire others to follow my example.
To trigger the magic, you have to push on a handle which will activate a hammer which will hit the bells, actually hollow steel tubes of different sizes. The tune thus produced seems to be a known one but impossible to put a name on it!
To find these bells, follow Walk in Boston #5, the Historic Charlestown. They will be just past the locks when, leaving North Station, you take the footpath to the left of the Charlestown Bridge (do not go up the bridge but pass in front of the Marine Police Station).
It was Paul Matisse who created this musical sculpture in 2000 following a commission from the city. For the record, he is also a grandson of Henry Matisse and he lives in Massachusetts.
Voila, you know everything and you know what you have to do when you pass by there because then, the city will be transformed for 30 seconds. And it will make you smile.
If you take this walk, its last part suggests an additional 1-mile loop along the Harborwalk and into a part of the shipyard that was open for renovations when the yard closed. It's quiet, along the harbor, with beautiful views of downtown Boston.
---
A chaque fois que je passe par là, j'aime faire sonner les cloches de Charlestown mais comme je suis souvent le seul à le faire, j'espère aussi inciter les autres à suivre mon exemple.
Pour déclencher la magie, il faut pousser sur une poignée qui va actionner un marteau qui tapera sur les cloches, en réalité des tubes d'acier creux de différentes tailles. L'air ainsi produit me semble connu mais impossible de mettre un nom dessus!
Pour trouver ces cloches, suivez Promenade à Boston numéro 5, Charlestown l'historique. Elles seront juste après les écluses quand, en partant de North Station, vous prenez le chemin piétonnier sur la gauche du pont de Charlestown (ne montez pas sur le pont mais passez devant le poste de la police maritime).
C'est Paul Matisse qui les a crées en 2000 suite à une commande de la ville. Pour la petite histoire, il est aussi un petit-fils de Henry Matisse et il habite au Massachusetts.
Voila, vous savez tout et vous savez ce qu'il vous reste à faire quand vous passerez par là car ainsi la ville sera transformée pendant 30 secondes. Et cela vous fera sourire.
Si vous prenez cette promenade, sa dernière partie vous suggère une boucle supplémentaire de 1,5 km le long du Harborwalk et dans une partie du chantier naval qui a été ouvert aux rénovations quand le chantier a fermé. C'est tranquille, le long du port, avec de belles vues de Boston centre.