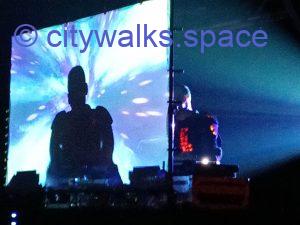 (texte en français ci-dessous)
Mystery Skulls now hides behind a screen during his concerts. Previously, he was in backlight with spotlights behind him which left him in the shadows.
It seems odd, especially because he wears a luminous stage costume that can be seen by being on the side of the stage and which would deserve to be put forward.
The result is disconcerting and if the plays of shadows on the screen are undeniably interesting visually, his direct presence and overflowing energy is somewhat lacking.
Yet his music, a mixture of electro pop à la Daft Punk with vocals sometimes reminiscent of Mickael Jackson – he is the one who does them, heats the room from the first chords and he has in front of him an audience of enthusiastic fans who know all his titles and do not spare their support.
In this, he is typical of artists who come to Brighton Music Hall. Known outside their borders, although in this case, Mystery Skulls come from Los Angeles for a tour of several weeks in the USA, able to fill already large rooms but not yet at the top of their possibilities.
The advantage: you can see them up close, the atmosphere is heated, the dancing is frantic, the entrance fee and the drinks are reasonable and if you look around a bit when coming by car, you will even find free parking places.
In short, don't hesitate to go that far even if it's a little outside the walks of boston.citywalks.space and as for Mystery Skulls, keep his name in mind if you haven't seen him that evening.
He played only one hour, thought, much too short for what he does but it's often the case at BMH!
External links:
Other outings: a page where you'll find other places to go out in and around Boston (concerts, museums, historial sites…)
Luis Dubuc wikipedia page: to know more about the artist behind Mystery Skulls.
Beam me up: a title from his latest album with the same name.
---
Mystery Skulls se cache maintenant derrière un écran pendant ses concerts.
Auparavant, il était en contre-jour avec des jeux de lumiere derrière lui qui le laissaient dans l'ombre.
C'est la première chose qui frappe en allant l'écouter alors qu'il porte un habit de scène lumineux que l'on peut voir en étant sur le côté de la scène et qui mériterait qu'il soit mis en avant.
Le résultat est déconcertant et si les jeux d'ombres sur l'écran sont incontestablement intéressants visuellement, il manque sa présence directe et son énergie débordante.
Pourtant sa musique, un mélange d'électro pop à la Daft Punk avec des vocaux rappelant parfois Mickael Jackson – c'est lui qui les assure, chauffe la salle dès les premiers accords et il a en face de lui un public de fans enthousiastes qui connaît tous ses titres et ne ménage pas son soutien.
En cela, il est typique des artistes qui passent à Brighton Music Hall. Connus en dehors de leurs frontières, bien que dans ce cas, Mystery Skulls vienne de Los Angeles pour un tour de plusieurs semaines aux USA, capables de remplir des salles déjà assez grandes mais pas encore au top de leurs possibilités.
L'avantage: vous les voyez de près, l'ambiance est survoltée, la danse effrénée, le prix d'entrée et les consommations sont raisonnables et en cherchant un peu si vous venez en voiture, vous trouverez même des places gratuites.
Bref, n'hésitez pas à aller jusque là même si c'est un peu en dehors des promenades de boston.citywalks.space et quant à Mystery Skulls, gardez son nom en mémoire si vous ne l'avez pas vu ce soir là.
Il n'a joué qu'une heure ceci dit, bien trop court pour ce qu'il fait mais c'est souvent le cas à BMH.
Liens externes: