(texte en français ci-dessous)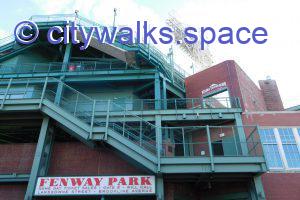 Walk in Boston # 17, from Longwood to West Fenway, passes through famous Fenway Park.
If you have never been to this place, it's worth the trip, even if you do not like baseball.
It is the oldest baseball stadium in the US, where the Red Sox have been training since 1912.
Who, from the Red Sox or the stadium, is the best known, hard to say?!
Located almost in the city center, it is also one of the smallest stadium of the MLB. It's classified as a Historical Landmark since 2012.
Around, in the adjacent streets, the animation is constant and goes crazy during games.
If you do not want to buy a ticket to visit the place, a bar offers a view of the lawn in exchange for a drink.

———————————

Promenade à Boston numéro 17, de Longwood à West Fenway, passe par le fameux Fenway Park.
Si vous n'êtes jamais allé(e)s dans cet endroit, il vaut le déplacement, même si vous n'aimez pas le baseball.

C'est le plus ancien stade de baseball des USA, l'endroit où les Red Sox s'entrainent depuis 1912.
Qui, des Red Sox ou du stade, est le plus connu, difficile à dire?! 

Situé presque au centre-ville, c'est aussi un des plus petits stades du MLB. Il est classé monument historique depuis 2012.

Autour, dans les rues adjacentes, l'animation est constante et devient folle lors des matchs. 

Si vous ne voulez pas acheter un billet pour visiter l'endroit, un café vous offre une vue sur la pelouse en échange d'une consommation.