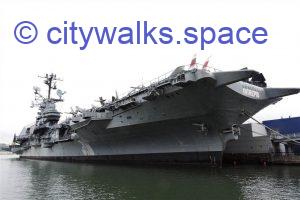 (texte en français ci-dessous)
Did you ever dream of setting foot on an aircraft carrier? Then go to the Intrepid Museum in Manhattan and, on top of seeing some aircrafts, you'll also have the opportunity to visit a nuclear submarine, the Enterprise space capsule and the Concorde in addition to all the other activities that will be offered on site. It will make you realized how cramped the living quarters can be in the army!
To get there, follow 46th Street towards Hudson River and you will see the aircraft carrier moored at Pier 86. In fact, even if you don't want to go inside, it's already quite an unusual sight well worth a detour if you are in the area.
Retired for the second time in 1975 after serving in WW2 then the Vietnam War and finally as A Gemini and Mercury capsule recovery ship, it was destined for scrap when it was saved by two entrepreneurs and a New York philanthropist and turned into a museum that opened in 1982.
Allow two to four hours for the visit and arrive early if you want to avoid the lines for the main attractions. Many of the guides will be veterans who will also tell you about their own experiences on ships or planes of the same type and it makes the museum even more interesting.
Then, you can end your day with a walk of about two hours (without stops) along the High Line and the Hudson River towards Lower Manhattan. To reach it, follow the river to the east and see the description of the walk by opening the link below.
External links:
---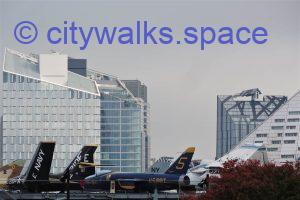 Vous avez un jour rêvé de monter sur un porte-avion? Alors allez au musée de l'Intrepid à Manhattan et vous verrez non seulement des avions de chasse mais vous aurez aussi l'occasion de visiter un sous-marin nucléaire, la capsule spaciale Entreprise et le Concorde en plus de toutes les autres animations qui vous seront proposées sur place. Cela vous fera réaliser à quel point les logements peuvent être exigus dans l'armée!
Pour vous y rendre, trouvez la 46th street direction Hudson River et vous verrez le porte-avion amarré au quai 86. En fait, même si vous ne voulez pas entrer à l'intérieur, c'est déjà un spectacle assez inhabituel qui mérite un détour si vous êtes dans le coin.
Mis à la retraite pour la deuxième fois en 1975 après avoir servi pendant la 2ième guerre mondiale puis la guerre du Vietnam et enfin comme navire de récupération des capsules Gemini et Mercury, iI était destiné à la ferraille quand il fut sauvé par deux entrepreneurs et un philanthrope new-yorkais et transformé en un musée ouvert en 1982.
Comptez de deux à quatre heures pour la visite et arrivez tôt si vous voulez éviter les queues pour les principales attractions. Beaucoup de guides seront des vétérans qui vous raconteront leurs propres expériences sur des navires ou avions du même type et cela rend le musée encore plus intéressant.
Ensuite, vous pourrez finir votre journée avec une promenade de deux heures environ (sans les arrêts) le long de la High Line et de l'Hudson River vers Lower Manhattan. Pour la rejoindre, longez la rivière vers l'est et voyez la description de la promenade en ouvrant le lien ci-dessous.
Liens externes: