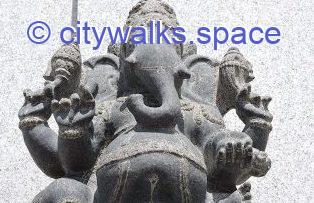 (texte en français ci-dessous)
The Hindu Temple Society of North America is in Flushing, Queens, New York City.
Leave your shoes and bags at the entrance. You'll then walk in front of many gods with surely great powers. That's it, if you believe all the worshippers bowing in front of them. They all have offerings, and the atmosphere is reverent.
Next, go to the basement for wonderful vegetarian Indian cuisine.
To find this temple and others too, follow Walk in NYC # 18, the best of Flushing and Corona.
---
Le temple hindou de la société d'Amérique du Nord est situé à Flushing dans le Queens, New York City.
Otez vos chaussures et laissez votre sac à l'entrée. Vous pourrez alors marcher révérencieusement devant de multiples déités aux pouvoirs impressionnants. Du moins si vous en croyez tous les croyants se prosternant devant eux.
Toutes ont des offrandes et l'atmosphère est révérencieuse.
Ensuite, allez au sous-sol pour d'excellent plats indiens et végétariens.
Pour trouver ce temple et d'autres encore, suivez Promenade à NYC numéro 18: le meilleur de Flushing et Corona.